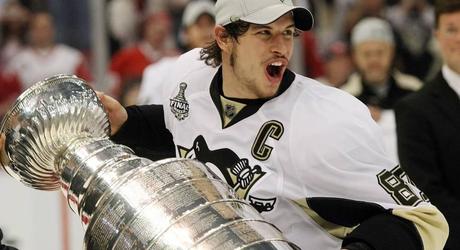 The season is winding down. It's about that time. That time when teams on the outside start looking in, and teams on the inside start looking farther. This is the point of the season when you start looking at the talent you have, or the talent you are stuck with. You start to analyze how you can utilize that talent to help your team go farther than any other team. It's that time to start thinking about bringing home one of the hardest trophies to win in all of sports. Lord Stanley's Cup.
The Penguins have 11 games remaining this shortened season, and they are playing their best hockey. Can they keep it up, and finally transfer that regular season greatness into post season greatness? When we started back in January, and the Penguins hit some bumps early, people were going nuts. What these fans didn't realize is that we WANT the Pens to play their worst hockey at the beginning of the year, and progress, and continue to get better as the season goes along. Right now we've got some key injuries with Evgeni Malkin, and Kris Letang, but they should be back before too long.
The past two seasons the Penguins have made early exits from the playoffs. Two seasons ago, the Penguins were swept out of the first round by Tampa Bay. The Penguins had home ice. They were also playing without Sidney Crosby. Last season, the Penguins went down 3-0 in the first round to Philadelphia, and went on to lose in 6. What was the excuse last year? They had home ice. They had Sid. The Penguins have so much talent, and losing that early for a third consecutive year would be unacceptable.
As we sit, with 11 games remaining, the Penguins are 1st in the Eastern Conference, and tied for 2nd in the League in points. Let's look at a few other statistics.
Face off percentage 51.6% 6th
Home Winning Percentage .733
Away Winning Percentage .750
Goals Per Game 3.48 1st
Goals Against Per Game 2.61 13th
Power Play Percentage 24.4% 2nd
Penalty Kill Percentage 79.6% 20th
As you can see, you can pretty much throw home ice out. It has never mattered. The Kings won the Stanley Cup last year as an 8th seed. It's a meaningless stat. The Penguins score more than any other team in the league, but the defense is average. This is proven on the power-play as well. 2nd in power-play, but a measly 20th on PK. Come playoff time, when we are facing great teams night in and night out, we are going to have to improve. On top of that, the Penguins are ranked 25th at giving up penalties. So when you put a penalty prone team along with a sub-par penalty kill, I would say that is a huge concern moving forward.
The team has remained generally healthy this season, right now only 2 big injuries, and for a short period of time. The penalty kill is hurting without Kris Letang, but even then, we don't have the talent on defense. Despres, Niskanen, Bortuzzo, and Eaton aren't getting the job done. But at this point of the season, there's not much we can do. Here's to hoping the Pens can get their defense straightened out and ready to go for these last 11 games then 16 wins after that.