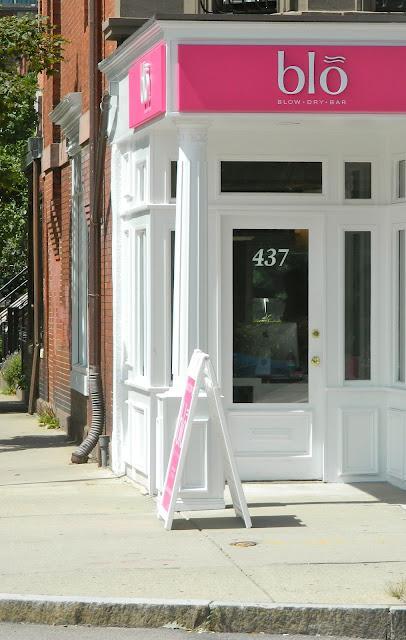 (Blo South End)
By now, you're probably well aware of my Lauren Santo-Domingo obsession. Ever since my style icon t
old "Into the Gloss" that she never, never, washes her own hair let alone blow dry it,
I've dreamed of the day when I, too, could be a twice weekly blow-out girl.
Now that
Blo Dry Bar has opened it's door in the South End
, I'm so much closer to living the dream. I was super bummed that I couldn't attend their media day a few weeks ago during Blo's grand opening so when Blo Boss Gina invited me to come in yesterday I jumped for joy!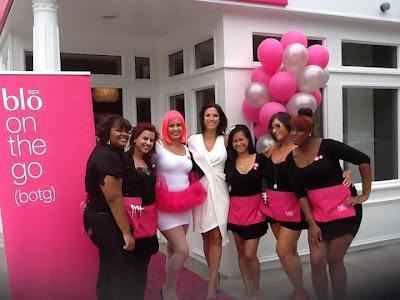 (The Blo South End team at the grand opening!)
If you're unfamiliar with the idea of a "blow out", let me explain. It will change your life. You know when you see a celebrity on the red carpet (or even at the grocery store) and her hair is smooth and shiny but has that right amount of bounce and swing? She wasn't born that way and she didn't style it herself! Some lucky (or unlucky, depending on the celebrity) stylist took an hour or so to wash, blow dry, flat iron and possibly curl her hair to perfection. Most of us only go to the salon when we need a cut and might be lucky enough to have freshly blown out hair for a day or two every six months or so. With a blow-out, the only thing your stylist does is wash, blow dry, and style. If you're not getting a cut most stylists at salons are not happy about giving you a blow out. It's too much work. And they'll charge you an arm and a leg to do it.
Blo, started in 2007 by some savvy Canadians, is the answer to the question, "Why isn't there a place to get quick, affordable, catwalk quality blow outs?"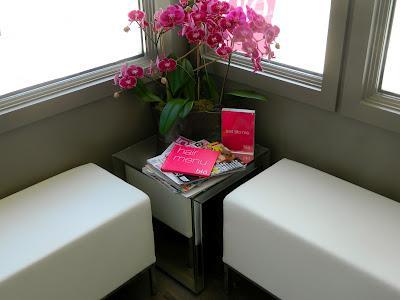 (Reception Area)
As soon as you walk into Blo South End, you know you've found a special spot. While their slogans (Blo Me, Bro Job, Blo U) lean to the naughty-cute side, the bar itself is a sophisticated spot decorated in calming grays and whites with punches of Blo's signature hot pink.  Every one is super warm and friendly, so I felt immediately comfortable even though I wasn't dressed in my usual Fashion-Blogger-Finest.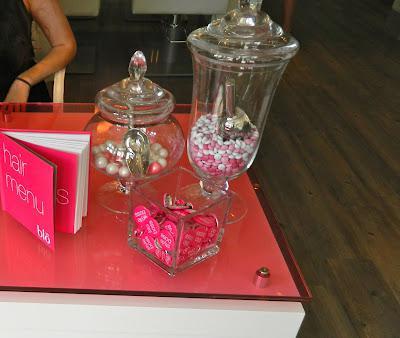 (Blo's Front Desk & Candy Jars)
Fortified with a freshly made glass of pink lemonade and some pink & white candy, I sat in my "Bloer" (or stylists) chair and was handed Blo's Menu. 
For just $35 (no matter how long, short, thick or thin your mane may be) you can pick from one of seven signature Blo styles. Usually, I want my hair to blown stick straight and smooth (known at Blo as  The Executive Sweet) but I was feeling adventurous yesterday so I went with The Boho Braid.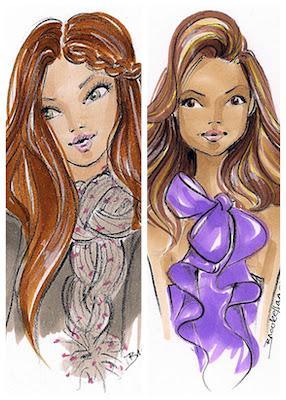 (The Boho Braid and Holly Would styles from Blo's Menu)
As soon as I had chosen, I was whisked over to the shampoo station for my wash and conditioner.  Blo exclusively uses Unite hair products, a celebrity favorite that is PETA approved and certified vegan. I was little skeptical that an all natural product could tame my textured tresses but my hair is so unbelievably soft and smells so delicious that I have to admit that Unite really works.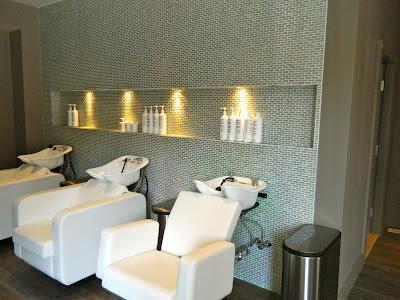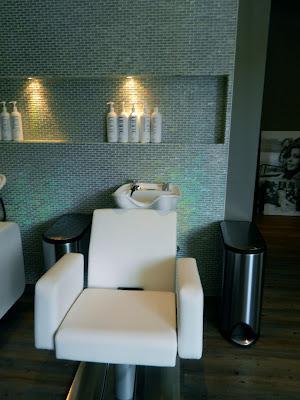 (Comfy chairs at the sinks)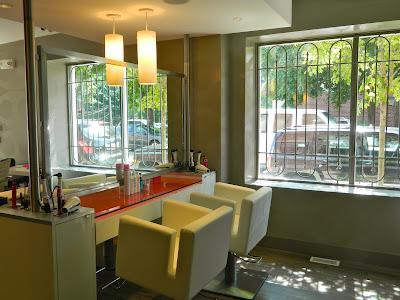 (I love that the space has a lot of windows and natural light)
Then it was back to my chair where my hair was dried about 80% with a diffuser before being sectioned off and straightened with the blow dryer and round brush. I have a lot of hair so it usually takes forever but my stylist has it down to such a science that I was surprised how quickly, it was dried!  With a couple of snazzy maneuvers with the brush and flat iron I had smooth waves ready for Coachella and a perfect side braid pinned neatly behind one ear.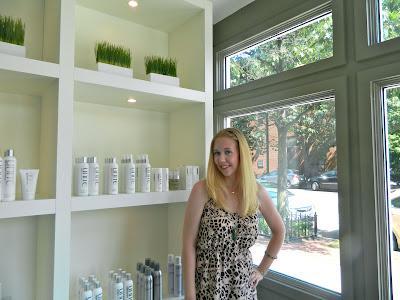 (My "After" snap; I don't do "Before" shots. Dress: Madewell, Bracelets: Alex & Ani)
For a stylish woman on the go, Blo is a basic necessity.  They've only been open in the South End for about two weeks and are already building a loyal following. Count me in on this bandwagon!
Blo South End
437 Columbus Ave
617-263-0150
Big thank you to Gina, Hilary, Emily, and especially the entire Blo South End team!
(All pictures in this post are by TheBostonista except for The Blo South End Team Shot and The Blo Menu Illustrations provided by Blo. My appointment at Blo was complimentary but the review is honestly my own.)