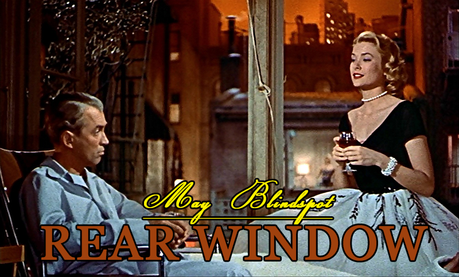 With the recent release of Grace of Monaco (2014), there has been more talk than usually of the immortal ghost of the fabulous Grace Kelly. I knew about Grace before I ventured into the art of film for my leisure time, since my favorite topic used to be fashion once. She's your go-to choice for random photo collages that are supposed to express 'glamour', 'timelessness' or simply 'the 50s'. Much like Marilyn Monroe, she's a confusing persona and most people would find it hard to determine what kind of celebrity she was. Apparently, she started a promising career in acting before venturing into princesshood by marrying the Prince of Monaco. When you type her name into the IMDB, it says 

'Actress, Rear Window (1954)'

 in a smaller font below an attempt to capture her breathtaking beauty - it was shortly before she met the prince that my blindspot for this month, which is the film she is best known for, was filmed.
Despite James Stewart's charm, Grace Kelly is the dominating star in this light-hearted murder mystery: She plays Lisa, a New York socialite who is in an on-off, love-hate relationship with adventurous photographer Jeff (Stewart). Due to an accident, Jeff is bound to a wheelchair for a few weeks in the hottest time of summer, a time he fills by regarding the goings-on in the backyard of his apartment complex. Most of the evenings, Lisa goes to visit Jeff and tries to talk him into considering a more serious relationship with her. When Jeff thinks he has overseen dangerous happenings from his rear window, Lisa tries to help him figure out the mystery.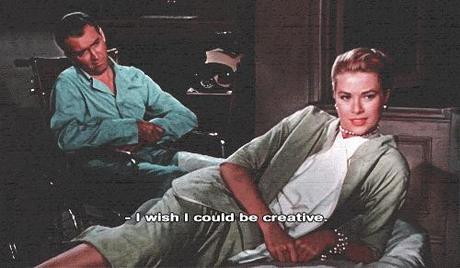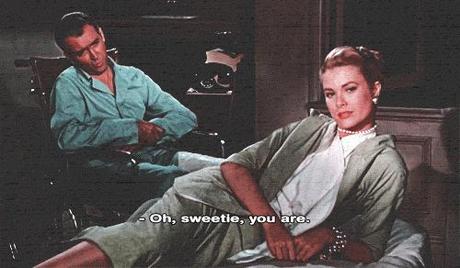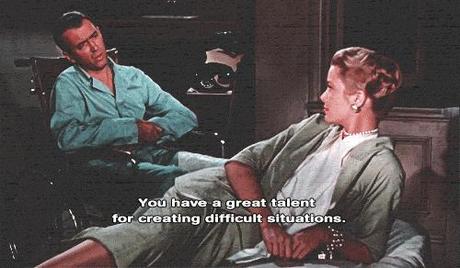 Perhaps Rear Window was in fact huge enough for me to know its concept, or perhaps I have seen some sort of Indian remake of the story, but the film seemed oddly familiar to me. Not in a déja-vu kind of way (if you look apart from Hitchcock's self-induced déja-vus in shape of The Blonde, The Mystery and The Accidentally Troubled Man) but I had the feeling I knew where everything was going. Of course, this is not one of Hitchcock's most unforeseeable films at all. By now, someone who has seen about a dozen of his films and knows enough about murder mysteries (thank you, Sherlock) should figure out the development of the story soon enough, with the exception of the mystery itself perhaps. This brings up the suggestion that maybe this film is not merely about suspense or tension, at least not from a modern perspective. What will excite a modern viewer however, is the dense atmosphere of being trapped in a wheelchair during the hot summer months, Grace Kelly's effortless elegance and the voyeuristic pleasures that the rear window symbolizes. The latter is a little overdone, for example the ballerina next door behaves more like a pin-up star than anything else and Lisa's remarks about the two of them being alike don't seem fitting. If the ballerina is roller girl, Grace Kelly is Julianne Moore. Perhaps the two have similar lives- but if you look close, they don't really.
Rear Window isn't one of Hitchcock's best to me, but it's harmless fun - a sort of murder mystery thriller light. Something you can enjoy without paying attention a hundred percent of the time (although I would recommend staying glued to Grace Kelly's scenes). James Stewart's narration is always a pleasure and the play with shadows and such makes for a visually interesting film as well. It's hard to go wrong with a film like this, but it still doesn't reach the level of brilliance of films like Psycho, North By Northwest and Shadow of a Doubt for me.


REAR WINDOW1954 • USA • English
director Alfred Hitchcockauthors (John Michael Hayes), Cornell Woolrich★ Grace Kelly, James Stewart, Thelma Ritter

FINAL FRAME | STRAWBERRY
How's that for a bit of homespun philosophy?
I'll be back soon with... 12 Angry Men (1957)