If you're the kind of person who likes sending sound memes, then Blerp is for you. Blerp is the search engine for sound bites that empowers and allows your viewers to play sounds in your streams at the cost of a few bits. Blerp was created by students from the UofU in 2016. It now has over 130,000 active users across its integrations exploding with growth and gaining over 50,000 installs of their Twitch extension in the last 6 months. Blerps database of sound bites makes it easy to Discover, Create and share short sound bites to Twitch, Discord and your messenger apps.

What is Twitch?
Twitch is a live stream platform purchased by Amazon in 2014 for 970m and over 2 Million monthly streamers over 15 million daily active viewers . Blerp looks to provide an interactive experience in the growing live stream space. The gaming community is in love with Blerp as its been a new and fun way to connect with the viewers and get more donations. The donations are in the form of bits which are bought using real money.
What is Discord?
Discord is the leading voice chat and messaging platform for gaming communities which boasts over 140 Million active users. Blerp integrates into discord to allow users to tap into their database of sound bites and share them with each other. Blerp is integrated on over 4,500 servers and over 300,000 users can access and play blerps. Blerp can be used as a panel or component. Now, what are a component and a panel? A component is an overlay over your stream that is interactable and a panel will be placed over your profile this is the section below your stream.
Why do people Love Blerp?
Easy to integrate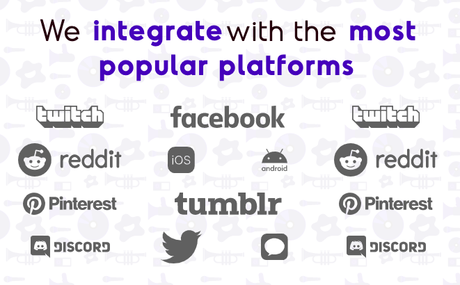 Blerp is easy to set up across almost every platform it can be easily integrated with Twitch, Discord, iMessage and Android. Streamers simply add the extension to their OBS. From there you walk through the configuration setup on Twitch. Once set up, streamers can select and feature a custom soundboard of the best moments they create on www.blerp.com or select their favorites from the site. For Discord users simply add the Blerp bot to their server and can use commands to play Blerps.
The largest library of sound bites
Blerp has an abundance of sounds to use across their integrations, with 1 Million+ sounds to share. Whether its meme soundboards, movie quotes or shows you can find it on Blerp.
Interactive donations
Blerp makes it possible for communities to engage with their favorite streamer personalities through sound donations. Que up a sound for the perfect jump scare, a line from a favorite movie, or cut and reshare a clip from a previous stream. Streamers have generated thousands of dollars in revenue through the Blerp extension. Here's a video of the extension in action!.
Blerp users can organize and create their own sound bites. Favorite a Blerp to easily share later or download them to play them offline. Why download an individual soundboard when you can have all of them in one place.
 User created original content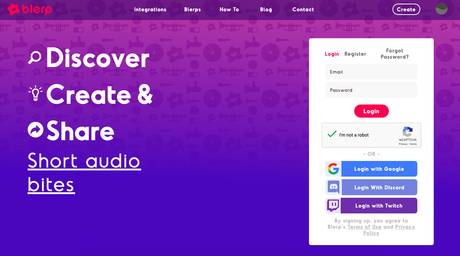 What's really unique is that users can create their own sound bites and play them as Blerp. With intuitive clipping tools you can clip and create a blerp from any moment and reshare them on stream, in your discord server or via text. Thousands of users created Blerps have been created, which Blerp would you create?
With the continuously growing gaming community and game streaming business, a powerful tool like Blerp is a blessing for both streamers and viewers. It makes the flow of conversation between both sides interactive and memorable. Although Blerp is currently focused on live streaming and gaming Blerp looks to introduce additional integrations with voice assistants like Amazon Alexa, Siri and Google Home. So if you're looking for a way to Discover, Create and share short sound bites; have all your sound bites in one place or make your live stream even better Blerp is for you!
That's all from the story. If any query persists, do notify us in the comment section. Stay connected to read more.