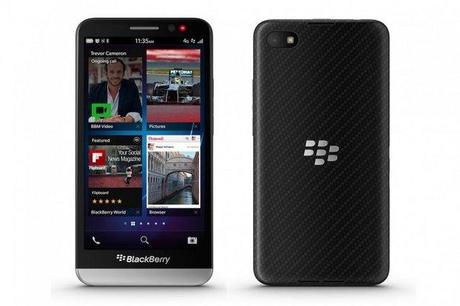 BlackBerry has announced another new all-touch smartphone, BlackBerry Z30 sporting a bigger screen and its' latest BB 10.2 OS. Calls it "BlackBerry's biggest, fastest and most advanced smartphone." This comes after BlackBerry's first and struggled all-touch smartphone, Z10.
BlackBerry Z30 is about the same size of the Samsung's Galaxy S4. New phone sports 1.7 GHz processor, quad-core graphics and promises longer battery life with a 2880 mAh battery. While Google and Apple bring out more personalized devices, BlackBerry targets people in business with this phone as it comes pre-installed with Documents To Go and the new notification management place Priority Hub. BlackBerry's Executive Vice President, Carlo Chiarello says that Z30 is "designed for people looking for a smartphone that excels at communications."
You may also like: How Android Dominated the Mobile World – Infographic
Despite the early success with its' QWERTY smartphones, BlackBerry failed to adapt to latest technologies. Instead of innovating and improving the company tried to stay in the market with the same old premium smartphones. As a result, the company lost its' market share when Android and iOS devices came out. And now they are struggling to get back into the game and still failing. BlackBerry is now even miserable enough to roll out its' messaging app for Android devices, with a little hope of connecting Android users with BlackBerry to keep things alive.
Pricing and U.S. availability of BlackBerry Z30 weren't announced. But, according to TechCrunch, the new phone is set to roll out in the UK and Middle East starting next week.


(All the images, trademarks, logo's shown on this post are the property of their respective owners)
Follow @nrjperera - Roshan Jerad Perera