I love a little sugar and a little spice and this Blackberry Serrano Margarita has it all. I've combined my favorite blackberry serrano preserves with tequila and liqueurs in this cocktail and it's amazing!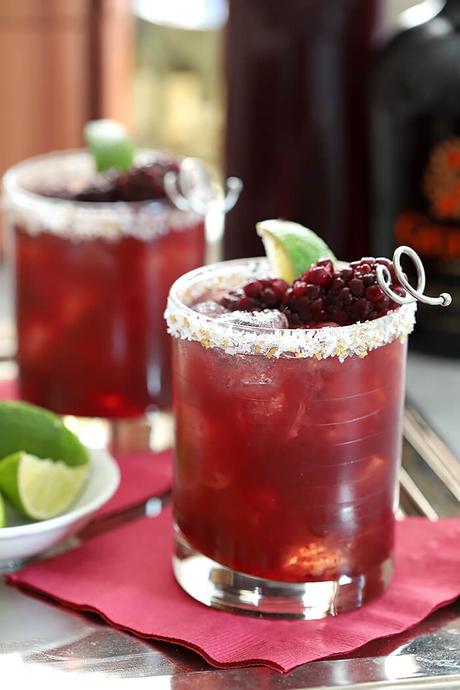 A good friend of mine recently started to do some marketing with Primo, a company that I've loved for over a decade and she gifted me with a couple of jars of both my favorite preserves and a new product line, the most amazing honey.
Both deserve special treatment so I've started by making this Blackberry Serrano Margarita Cocktail.
When I first started blogging about food, it was a part time gig for fun as I was the owner of a web development company.
Also a single mom, I had this crazy moment when I thought that was not enough responsibility so I started a little side gig; an online store for wine-centric gifts and some favorite food items.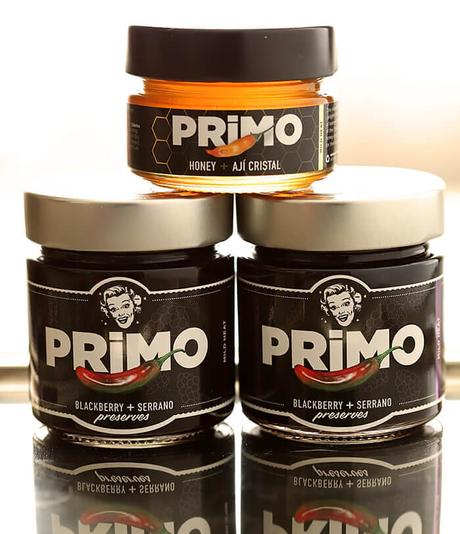 One such item were the preserves from Primo. I can't say I remember exactly where I met the owners, I'm guessing it was an expo somewhere in town and it was love at first bite.
I did holiday open houses for locals to come shop my wares and always featured a couple of local food products that were for sale as well.
While Primo had multiple offerings I enjoyed, my favorite product has always been their Blackberry and Serrano Preserves.
The pairing of sweet berries with a spicy pepper makes for the most amazing combination. Sure the heat is there but it's not overpowering and that's how I like it; what I call sweet heat.
While I most certainly enjoy the preserves on a bagel with cream cheese or an English muffin, using it as an appetizer offering has more often been the norm.
These preserves simply presented over a block of cream cheese with some crisp crackers is quick, easy and will disappear in a heartbeat.
I've dolloped it over baked bried too but this Blackberry Serrano Margarita Cocktail was my first cocktail effort.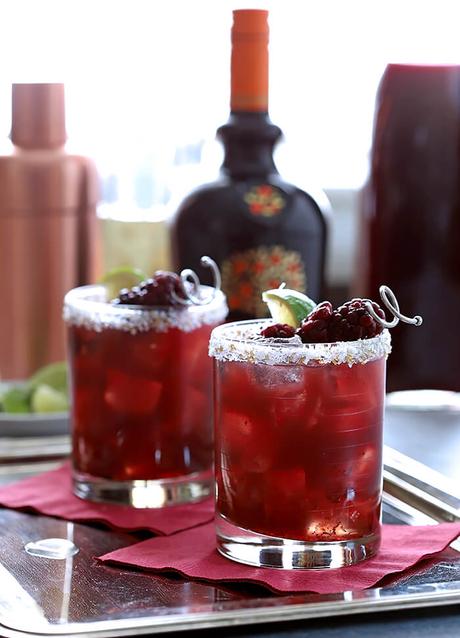 I've used jams and preserves before in cocktail recipes and there is nothing quite like them if you want a flavor not in season...they are a great compromise.
If you read my post last week, you know I simply HAD TO include some of my new Blackberry Liqueur (Crème de Mûre) too.
If you don't have blackberry liqueur and prefer not making your own, simply substitute Crème de Cassis. It will be close and when blended with the jam will still provide a great blackberry flavor.
Not a fan of the heat from Serrano peppers? No worries, try this recipe for a plain Blackberry Margarita, it's delicious too!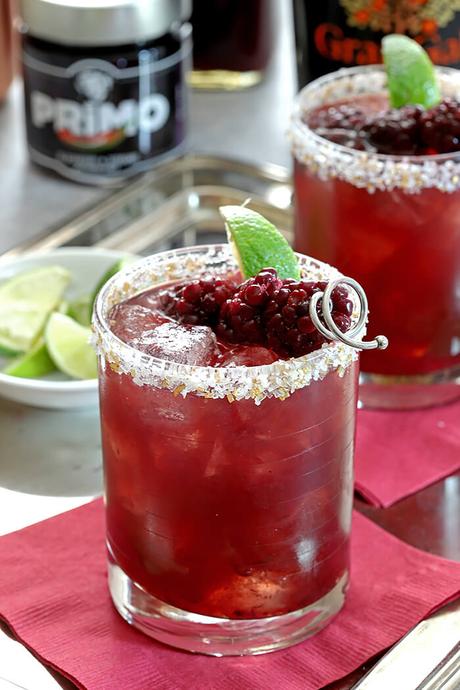 I saved this cocktail after I finished taking photos; I had two of them and like to ask a neighbor to join me.
I had met a nice young woman through our community Facebook page and we had been waiting for an opportunity to get together and this was the occasion.
We drank this cocktail and talked for, um, HOURS! Yep, it got dark even...loved that we finally connected Chelsea; we most certainly will do this again!
Next up? I'm not sure what it will be but the new honey from Primo? OMG amazing. I first opened a jar to put it on some toast and tasted it first.
No way was I going to waste it in that preparation; their honey is also combined with a pepper and it cried out for a cheese board, not an English muffin.
I need a great cheese or two, my buddy Jane who is the cheese expert and Primo connection, these preserves, the honey, crackers and another one of these cocktails. Soon. Very soon.
Sounds like a party in the making and I'm good with that...cheers!
PIN IT! 'Blackberry Serrano Margarita'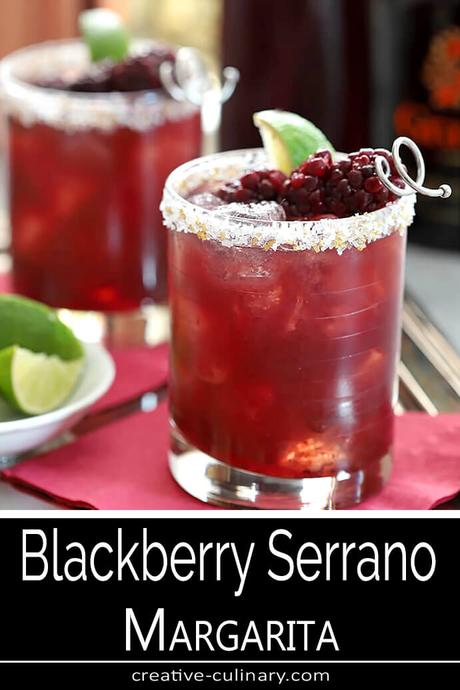 Primo is available online and in the Rocky Mountain Region Whole Foods stores.
PLEASE NOTE:
As Amazon Associates we may earn income from links in the above content as well as from these qualifying purchases.