Dense and gooey white chocolate cake with pine nuts, raisins and espresso touch, frosted with dark chocolate ganache and decorated with chocolate covered coffee beans. Dessert almost does not contain any flour which makes it quite rich, with brownie like texture and a very interesting and quite unusual flavor combinations. Surprisingly easy to prepare.
The cake is not overly sweet with pleasant hint of coffee and tangy pieces of raisins and fragrant pine nuts. Dark chocolate frosting dominates the taste. If you prefer milder taste, use milk chocolate for ganache...or even white chocolate, then it will be really creamy. I would cut it into small (almost candy sized) portions and serve with coffee. Enjoy!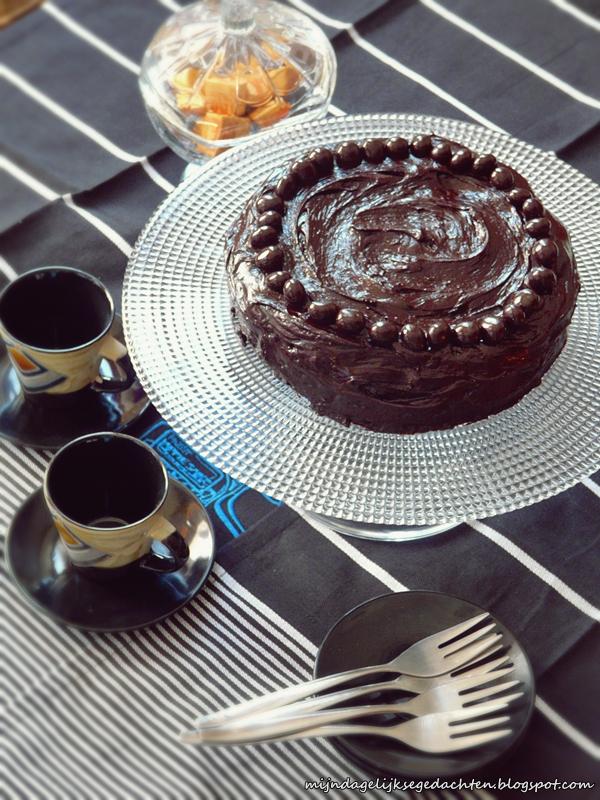 Cake:
3 eggs
80g sugar
35g flour
150g white chocolate
100g butter
1tb.s. coffee granules
1tb.s. milk powder
4tb.s. pine nuts
0,5 cup raisins
pinch of salt
Preheat oven to 170C.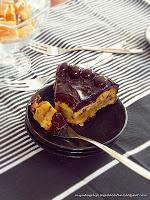 Melt white chocolate with butter and let it cool to room temperature.
Beat egg yolks with 40g sugar until pale. Add flour, coffee granules and milk powder into it and mix well.
Beat egg whites with pinch of salt and another 40g sugar until picks can be formed.
Mix raisins and nuts into the dough.
carefully add egg whites and mix to combine.
Line with baking paper 20cm baking form. Transfer the batter into the form. bake for about 40-45 minutes. Let it cool completely.
Ganache:
100ml heavy cream
170-180g dark chocolate
Heat cream and pour it over chopped chocolate, stir to help it melt. Wait until the mixture is cooled slightly and is spreadable. Frost the cake. Decorate with chocolate covered coffee beans.
Keep it in the fridge, it will be good for up to a week.