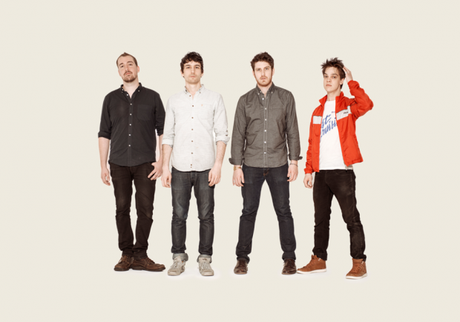 Black Light Dinner Party – I Was Right Soundcloud
Remember Black Light Dinner Party, that super secret band from a couple years ago who struck gold with their single "Older Together"? As it turns out, they weren't being secretive on purpose. The mother of their lead singer, Jack Côté, was going through some health issues, prompting him to create a band that plays the kind of music she would enjoy, as opposed to the disparate recordings each of the members were doing at the time.
The band perfectly captured what was becoming popular in indie music at the time with danceable beats, lyrics begging you to sing along, melodic arrangements and the subtlest electronic elements, which kept the songs interesting from start to finish. Their sound provided a refreshing alternative to the chillwave bands that were dominant back then. It's no surprise that their singles, "Small Boxes" and "Older Together", quickly shot to the top of the blogs. What is surprising, though, not to mention rare, is that the band decided to keep their identities, and subsequently their  music, as private as possible.
Black Light Dinner Party is back for real this time with their new single, "I Was Right", from their upcoming debut album Sons & Lovers, out on September 24th. All the qualities that originally drew such a large fanbase are still there, now there's just more to listen to. If "I Was Right" is any indication of the rest of the album, I'm pretty sure I speak for the collective internet when I say "September can't come soon enough!"