Tweet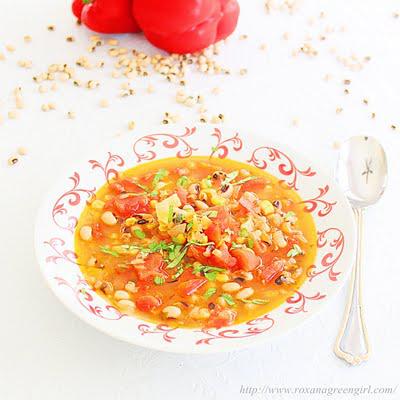 After being nominated one of the Babble's 100 Mom Food Blogger (Thank you all for your support <3) I've been contacted to be part of a blog tour to promote Ann Gentry's new cookbook Vegan Family Meals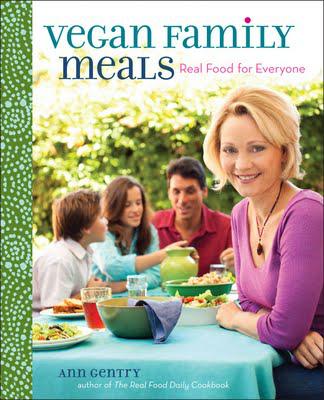 Couple of days later the mailman rand twice and I had a copy of the book. Eagerly opened the package and start reading. The book, as Ann says is filled with flavorful and satisfying recipes that support everyone's health, personal ethics and the environment that we all share. 
While reading the book I learned about dairy-free cheese, and not just soy-based ones, and about vegan butter which already conquered my kitchen after finding out my cholesterol was a little higher.
Except my daughter, we are all vegetarian, although we do eat fish 3-5 times a year. I'm the only one trying to go vegan. Reading this book helped me a lot understanding that going vegan doesn't mean flavorless. 
I'm still cooking meals full with flavor, trying to have at every meal some grains, veggies and fruit. Watch out for some vegan meals I'm going to share soon.
The recipes are well explained, easy to follow and beautifully photographed.
If you have never heard about Ann Gentry before, it's about time you should. She's the creator and owner of Real Food Daily, the only restaurant in the Los Angeles area that serves a 100% vegan menu using organic foods.
Read more about her, by visiting her blog 
 Real Food Daily - Organic Vegan Cuisine
and like Real Food Daily on Facebook
At the moment, the book is priced $16.50 on Amazon, with an $8.50 discount. Even if you are not vegan, I highly advice you to get your own copy. You'll learn so much and I have the feeling you'll consider at least from time to time have a vegan dinner. 
Order Vegan Family Meals
For my blog stop I picked a black eyes pea and red pepper soup.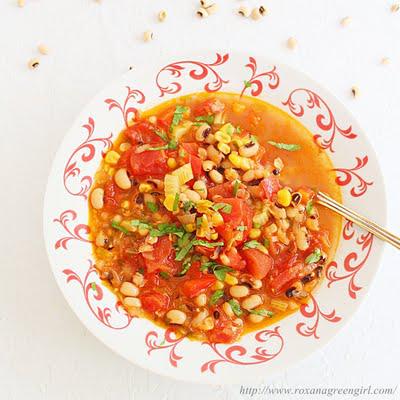 Black-eyed peas get their names from their characteristic appearance. They are white legumes with a small black dot resembling an eye. These delicious beans are well known in Southern and Southwestern cooking, but the nutrition of the black-eyed pea makes it an excellent addition to any menu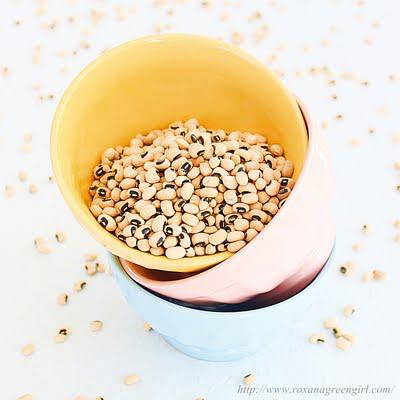 I followed the recipe from the book except the addition of collard greens since no one in my family eats them. 
Black-eyed pea and red pepper soup is an easy to make one. You start by boiling the peas, mine took about 2 hours, until the peas are soft but still hold their shape. In a pan you saute the onion, adding the celery and belle pepper to it when it's translucent. Cook a little bit more until the veggies start to soften.  Add then some tomatoes and corn. In the end add the peas and cook until all the veggies are cooked.
My advice would be to soak the peas ahead of time, this way the cooking times is reduced to 30-40 minutes.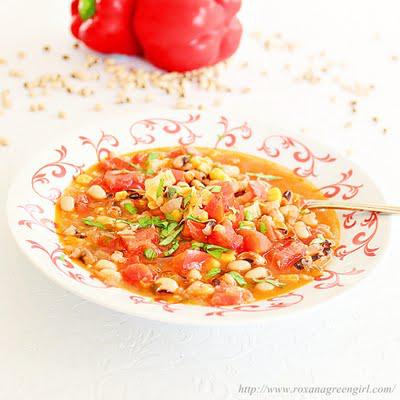 Black-eyed pea and red pepper soup*recipe from Vegan Family Meals
Ingredients
1 cup dried black-eyed peas2 small bay leaves2 garlic cloves, minced~ 6 cups of water1 tsp sea salt plus more to taste2 tsp olive oil1 large onion, chopped2 celery stalks, chopped1 large red bell pepper, chopped1 can (15oz) whole tomatoes, with juices3 ounces collard greens, stemmed and cut into 1/2 inch squares1/2 cup fresh or frozen corn kernels2 tsp dried thyme1/2 tsp freshly ground black pepper, plus more to taste1/8 tsp cayenne pepper2 tbsp chopped fresh cilantro 
Directions
Combine the black-eyed peas, bay leaves, and garlic in a heavy saucepan. Add enough water to cover the peas by about 2 inches., then bring the water to a boil over high heat. Decrease the heat to medium-low and simmer uncovered for 25 minutes, until the peas are par-cooked; they should be soft but still hold their shape. Add the 1 tsp of salt and cook 5 minutes longer. 
Heat the oil in a heavy pot over medium heat. Add the onion and saute until translucent, about 7 minutes. Add the celery and bell pepper, then cover and cook until the pepper begins to soften, about 4 minutes. Break the tomatoes by squeezing them in your hands over the pot, then add the tomatoes and their juices to the pot. Stir in the collard greens and corn to the pot. Cook for 2 minutes. Add the thyme, the 1/2 teaspoon black pepper, and the cayenne pepper and cook for 3 minutes, stirring frequently.
Add the black eyed peas and their cooking liquid and 3 cups of water to the pot. Increase the heat to high and bring the soup to a simmer. Decrease the heat to medium-low and gently simmer until the peas and greens and tender, about 30 minutes. Remove the bay leaves. 
Add more water, if needed, to thin the soup to the desired consistency. Stir in the cilantro, and season to taste with more salt and black pepper. 
Ladle the soup into bowls and serve.
That's about it for today, Sending you lots of love,