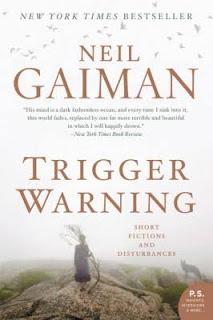 "Black Dog" by Neil Gaiman
First Publication:  Trigger Warning:  Short Fictions and Disturbances
I have a confession to make.  I started reading Neil Gaiman when he did "Sandman" for DC Comics.  His work on it impressed me.  Somehow I never made the time to read much of his prose.  Since then I have started to work my way through them.  "The Graveyard Book" is one of my favorites.  I have also read "Odd and the Frost Giants".  "American Gods" and his other novels are making their way to the top of my reading stack.
"Black Dog" is a follow up to "American Gods" that takes place a few years after the novel.  Shadow Moon is in England and meets a woman in a small-town pub.  Of course, this is just the beginning of his nightmare.  The Black Dog of the title is a local myth of a large dog that appears to people when they are about to die.  Gaiman starts the story with an uneventful easy pace that slowly builds in suspense as the American God Shadow is drawn into an adventure that could lead to his death.  Another solid effort from Gaiman.
Recommended, especially to fans of "American Gods".
I read this as part of the Short Story Quest of Once Upon a Time X.