"Here at BitTorrent, we value privacy. With the news this year reminding us all of the susceptibility of the communications platforms we rely on to snooping, we found ourselves wanting something new, something secure, something private. We ultimately realized that we were uniquely qualified to build this platform," BitTorrent wrote on a blog post last year announcing the project.
Bleep is a software that you can install on your computer to chat with others. It uses the peer-to-peer communication technology to send messages and even make calls anonymously, as it doesn't require servers. Bleep is now almost ready. BitTorrent has launched the service into invite only Pre-Alpha for testing the service before going public. You can sign-up here to test the service.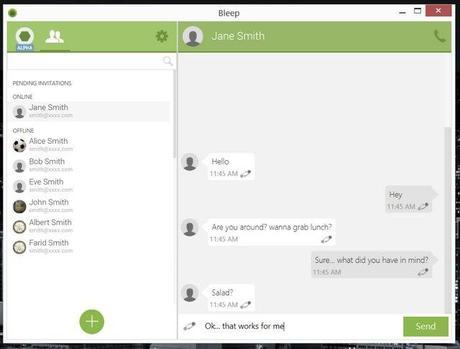 "Our big idea was to apply distributed technology to conversations. That means no servers required. This enables people using Bleep to make a direct, decentralized connection to someone they trust. Bleep offers the freedom to communicate without the risk of metadata being exposed."
If you're interested in protecting your privacy, and getting rid of privancy invading services such as Skype and Google Hangouts, you should try Bleep. The invite-only pre-alpha for Bleep software is available for Windows 7 and 8 desktop users.
[Via: BitTorrent Blog]
(All images, trademarks shown on this post are the property of their respective owners)
Follow @nrjperera – Roshan Jerad Perera