BITS Pilani, Hyderabad Campus is back with yet another edition of ATMOS, their annual techno-management fest. Since its inception in 2012, ATMOS proved its mettle in being considered the best techno-management fest in the southern states of India. With a nigh on thousand people from various interests attending the fest, coupled with a series of non-stop events and shows by professional artists, this fest (managed completely by the students of the college) will surely stand out amongst all other college festivals in the city.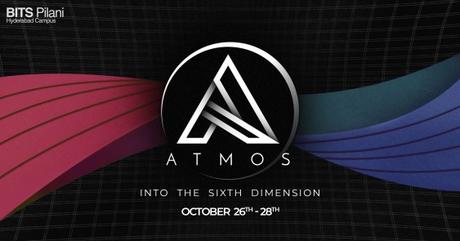 Starting from the inauguration ceremony up until the very last moment where they leave the campus, students are sure to be left spellbound with the plethora of events, workshops, and talks we have in store this ATMOS. Apart from the competitions and workshops ranging from Artificial Intelligence to PCB Design workshop, we also have an array of talks by eminent personalities from across the country who will be there to share their experiences with the students. The guest list for the talks includes celebrated speakers like Subramanian Swamy and Kamal Shah as well as brave-hearts Mr. Praveen Theotia (ex-naval officer) and Mr. Sanjay Govilkar (Mumbai Inspector) who valiantly fought for the country in the time of need during the 26/11 attacks. The pro shows include a stand-up performance by one and only Naveen Richard and an illusion act by a well-known magician Arun guru for a multi-dimensional experience. Along with these, the night is going to be lit with music and lights as our very own Zaeden takes the stage this ATMOS.
Pay a visit to this festival which promises a weekend full of fun and everlasting memories.
BITS Hyderabad - Techno-management Fest - ATOMS - 2018