Coupon Code (Click to Copy & Open Site)
Today I am going to talk about our review on BitDefender antivirus software and in this comprehensive article, I will try to explain why you should go for it.
I have been using bit defender for four years considerably. There is no denying that Bitdefender Antivirus Plus 2019 unveiled with a lot of improvements and features over its predecessor. Protect your PC from the very latest threats with this one-stop malware hunter
About Bitdefender Antivirus
Founded in 2001 in Romania, Bitdefender is the most trusted cyber security technology provider in the world. Bitdefender develops and markets a full suite of both free and retail products, including its flagship Antivirus Plus, Internet Security, endpoint security, and other cyber security products and services.
Effective multi-layered anti-Ransomware
Some bonus tools are a little basic
Easy installation
Minor Ransomware cleanup issues
Accurate malware blocking
Installation and Support
When you download the trial of bitdefender Antivirus Plus 2019, you need to sign up for a free Bitdefender account. An additional step of account creation brings some genuine advantages to the users. In turn, they can view their device security status from Bitdefender's web console known as Bitdefender Central. Registration, downloading and installation whole setup process runs smoothly. After the installation, users can have a simple tour of the features and UI on the first launch of Antivirus Plus.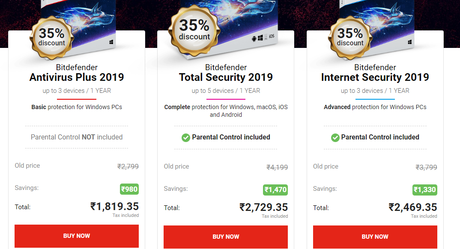 This guidance is beneficial for novices or for those who need it, though experienced users can skip this. The Antivirus Plus offers an easy and professional interface. On the front of UI, Bitdefender Antivirus Plus is fairly easy to use.
The most noticeable difference is the left-hand sidebar which classifies Internet Security's others features into Protection, Privacy and Utilities areas. By tapping these lists users can find what various functions they contain. A user is also allowed to add commonly used function as a shortcut to Total Security's console as well as they can replace some of the buttons included by default. The Dashboard takes a maximum of 5 tiles and via using Add a Quick Action tile users can add one extra tile. In nutshell, it's easy to use for beginners but also features the configurability and control that professionals need.
What features it has to offer?
Bitdefender Antivirus Plus 2019 application supports advanced real-time protection against all types of malware. To protect pc from Ransomware attacks, there is a Ransomware Remediation, an extra layer of protection reside. There is a Rescue Mode feature brings you a safe environment and prevents all malicious applications from booting with your system. The application also has Advanced Threat Defense feature allowing Bitdefender Antivirus Pro 2019 to analyze application behavior in real-time and notify you if anything suspicious takes place.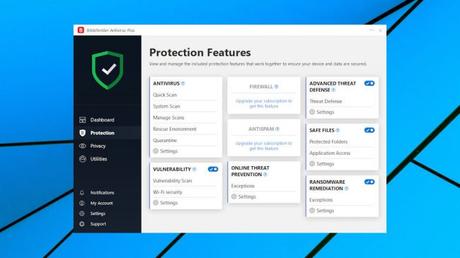 The next most loved feature, Web Attack Prevention will let you know if any of your search results are malicious. Your personal information is now safe at all times because of the presence of Anti-phishing and anti-fraud features. The application also supports Social Network Protection feature allowing you to identify malicious links on social networks. With a Safe Online Banking feature of Bitdefender Antivirus Plus 2019 now you can make safe purchases in a dedicated and secure browser. It also has a password manager which can store all your passwords, personal information, and other important data, and use it to instantly log in to certain websites or to fill forms.
It also has a File Shredder feature. By using this feature user can permanently delete any file from their PC in just a couple of clicks. You can spot potential vulnerabilities on your system, including missing system updates, missing passwords via Vulnerability Assessment feature. You need to buy a VPN subscription if you want more than 200MB per day.
Missing Features
There is no denying that Bitdefender Antivirus Plus offers great protection however some important features are missing. The user needs to use Windows Firewall to control which applications have Internet access. You can't lock your files as Safe Files feature is also missing. File Encryption is another feature listed in missing features. The user needs to consider a third- party application if they want to encrypt files.
Wi-Fi Security Advisor and Webcam Protection features are also omitted in this version. You need to avail a third-party application if you want to monitor and limit the computer usage for your kids. Anti-Theft feature is also not available.
Performance and System Impact
Bitdefender Antivirus Plus 2019 incorporates Bitdefender Photon technology in order to optimize hardware usage and bring maximum performance. It also supports Game and Movie modes to enjoy the multimedia at the fullest without experiencing any unexpected slowdowns or pop-ups. In addition to it, the application also comes with improved battery life. The Battery Mode feature automatically performs several tweaks in order to save the battery of your system. These include cooling your system, delaying unimportant updates or halting Bluetooth. Cloud-based scanning support is another interesting addition on it that won't slow down your system during the scan.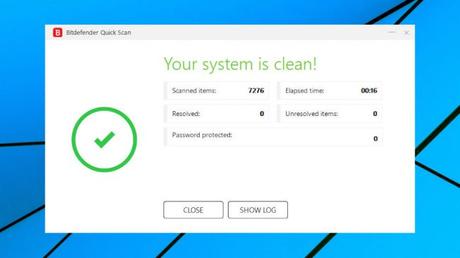 All these features will discontinue unnecessary processes, resulting in fewer computer slowdowns, lags, and eliminated malware and security vulnerabilities. This solid security suite is a very lightweight Antivirus and does not affect the speed of pc. We didn't witness any lags or slow down of the system during our testing.
Bitdefender Pricing Plans
Bitdefender Antivirus Plus 2019 is priced at a fairly average £29.99 ($39) for one device, one-year license, but adding
Windows devices and years can really improve value.
A one-year, 10 device license costs only £54.99 ($71.50), for instance, and covering 10 devices for three years only lifts the price to £124.99 (£162.50), just £4.16 ($5.41) per device-year.
Final Verdict
Bitdefender Antivirus Plus 2019 is a solid security suite which delivers all the usual malware hunting essentials. Bitdefender Antivirus Plus 2019 is the most affordable out of all Bitdefender products, which is definitely making it worthy. It's perfectly suited to the users who want affordable antivirus protection without any exceptional features.
Click Here To Download Best WordPress Plugin Of 2019
Must Read
How to use Brand Power of Instagram for Business
How I Increase Domain Authority?
How to find A Phone When Silent
How to Speed Up Joomla Performance
How to Use Templates in Azure Data Factory
Did you like this article?
1. Please share it with your network, we'd really appreciate it!
2. Would you like to write for Computer Geek Blog?
3. Keep subscribe us and follow us on Facebook and twitter for more tips & ideas about new technology.

Savita Singh is the author of computergeekblog, She has a superlative knowledge of Graphic and Web designing. She is a part time and award winning tech blogger who loves to write about latest technology, social media and web design. Her blog focuses on creative things of designing and tech, providing professional opinions on designing products, performances and a variety of business.