Activists and researchers in the US have dubbed this month 'Bisexual Health Awareness Month' to highlight the health disparities faced by bisexual people.
Ellyn Ruthstrom draws on the extensive evidence that now exists in this area to report that:
Forty-five percent of bisexual women have considered or attempted suicide, followed by bisexual men (35%), lesbians (30%), gay men (25%), and much lower rates for heterosexual women and men.
Bisexual women are twice as likely to have an eating disorder than lesbians.
Bisexual women report the highest rates of alcohol use, heavy drinking, and alcohol-related problems when compared to heterosexual and lesbian women.
Bisexual men and women report the highest rates of smoking of all orientations.
They also created this useful summary image: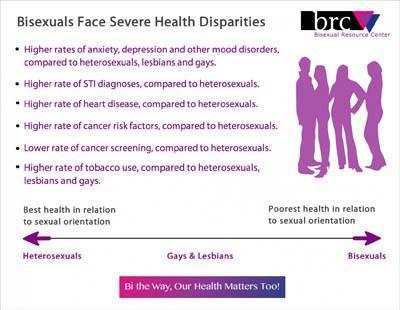 You can read the full post about the Bisexual Resource Centre initiative here.