Biscuit Samprit is my favorite cookies that I used to eat for Chinese New Year.
Back in the days, my grandmother and I didn't bake our own biscuit samprit as we bought ours mainly from a skillful neighbor who sold us tins of these biscuits stored in recycled Milo or Horlicks tins. At that time, my grandmother knows that I really love these cookies. For every Chinese new year, she ordered four large tins of cookies just for me and two for the visitors and the rest of the family. See! It is always the fatty me that get the most attention and priority.
Sadly, my always-loving-me grandmother is gone and there is also no more skillful biscuit samprit baking neighbor to sell me these cookies. Obviously, if I want to eat these cookies now, I have to bake them myself. hmmm...
Thanks to my friend, Joyce (Kitchen Flavours) who shared with us her wonderful biscuit samprit recipe!
Joyce is right... Back in the days when I ate tins and tins of these cookies, these cookies were baked with margarine, particularly Planta margarine or any of the kind that can stored well in room temperature. Now, I'm baking mine with the best quality butter for its beautiful buttery fragrance and lesser trans fat content.
For Little Thumbs Up (Cocoa event), I have also baked chocolate biscuit samprit by adding cocoa powder instead of custard powder and my son reckon that these chocolate biscuit samprit is only of his favorite cookies :)
With the right amount of icing sugar added, these traditional Chinese new year cookies are not too sweet. In fact, just right for us! Plus, the biscuit dough is also easy to handle and so they won't expand like crazy after baking. However due to their stability, both chocolate and custard dough are the firm kinds and I can't use a cookie press to pipe or shape these cookies. To shape, I have to use my thumb to push the dough through a star shaped nozzle and it can be quite painful after too much of pressing... Ouch!!!
Never mind, the pain is gone when I enjoyed these biscuits after baking...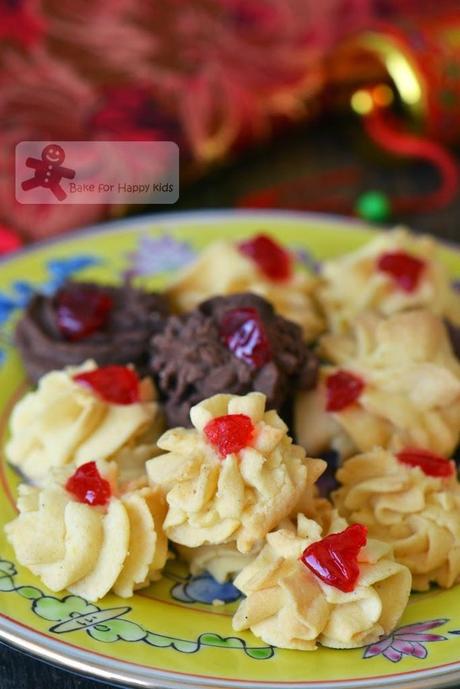 Biscuit Samprit / Biskut Ceri / Nyonya Cherry Cookies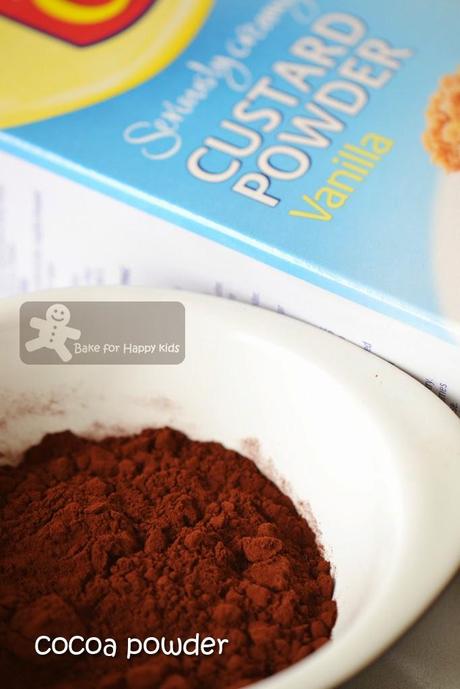 Made two kinds of these cookies. One is the traditional with custard powder and another with cocoa powder.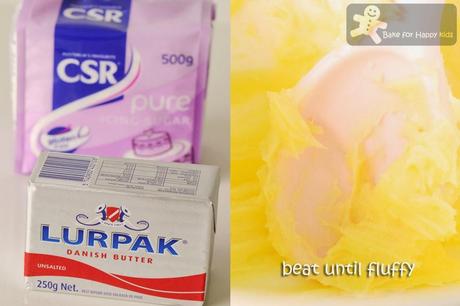 Instead of margarine, I have used soften butter to bake these cookies.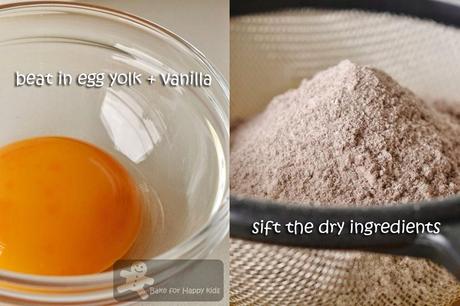 Then, mix in these ingredients.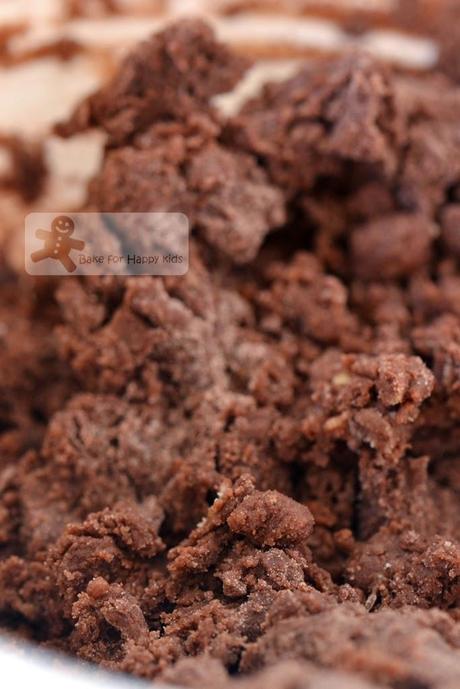 The chocolate dough is slightly drier than the custard one...
... but both are firm and can't use a cookie press to pipe or shape them.
Decorate the cookies with chopped pieces of glaze cherries - This is a must for a classic Biscuit Samprit!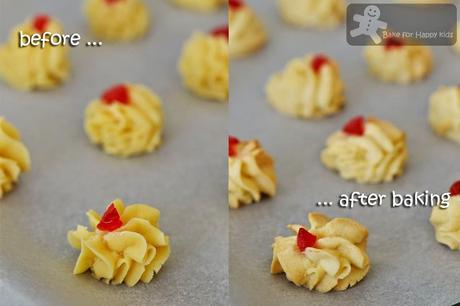 Our custard biscuit samprit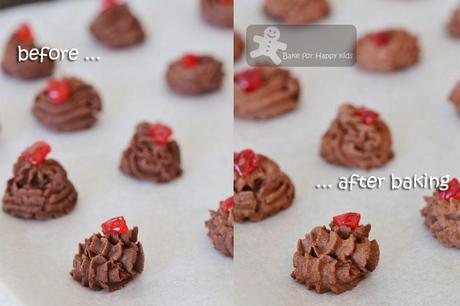 Our chocolate biscuit samprit - Notice that this dough is slightly harder to press?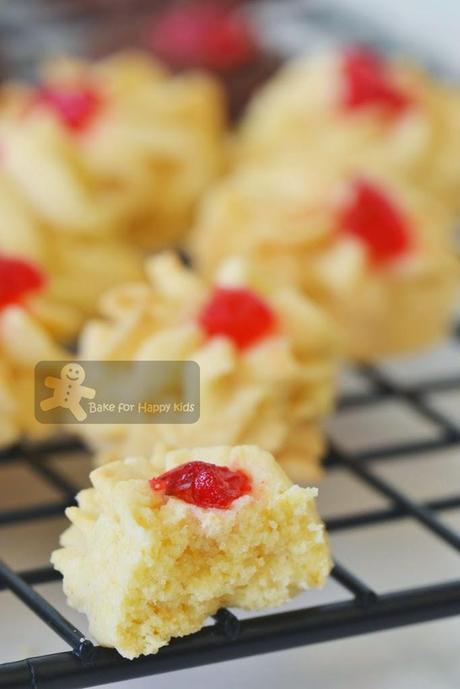 Buttery and yummy!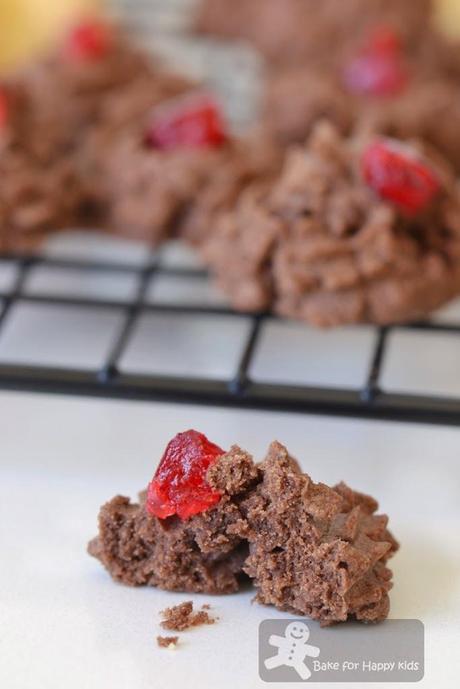 A little drier? Nay! I'm surprise that its texture is as good as the custard one!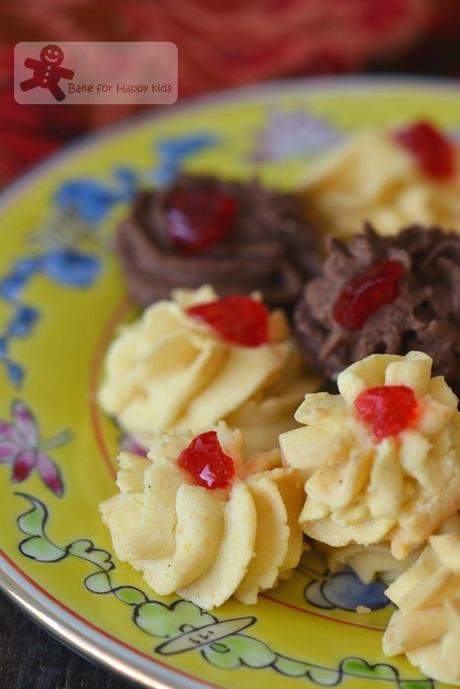 Need more cookies???
Yes, please!
Here's the recipe from Kitchen Flavours
(with my notes and modification in blue)
Makes 32 very small cookies
120g butter, soften (or margarine)

- I used butter
75g icing sugar
170g plain flour
20g custard flour

(or Dutch processed cocoa powder, preferably Valrhona if you want to bake the chocolate ones)
60g cornflour
1 egg yolk
1/4 tsp rose essence (or vanilla extract)

- I used 1/2 tsp vanilla paste
few drops yellow food colouring (optional)

- I didn't use that
glazed cherries, roughly chopped to decorate
Cream butter and icing sugar until light and creamy. Add in egg yolk, yellow food colouring (if using), rose essence (or vanilla), and mix till evenly combined. Add in the flours and knead to a soft dough. Do not over-knead.
Using the piping nozzle (plus my thumb), pipe (or press) out the dough on a baking sheet lined with baking paper.
Cut up some glazed cherries to small pieces. Place a small piece of the cut cherries in the center of the piped out cookie, pressing it lightly.
Bake in a preheated oven at 150°C or 150°C fan forced for about 20 mins or 15 mins if you are using fan forced oven, rotating the pans at half-time. Cool in pan for 2-3 mins, remove cookies and cool completely on wire rack.
Store in airtight containers (or recycled Milo or Horlicks tins - so nostalgic!)
Happy Baking
Guess what? I always assume that my grandmother hasn't bake biscuit samprit before and I'm totally wrong!!! Later, I found this nostalgic biscuit samprit cookie press from my box of treasures which I have inherited from my grandmother... How can miss out this item all for the fact that I'm actually the one who is safe keeping these treasures??? Sotong* me!
*Sotong means octopus in Malay language and it has an underlying meaning saying a person does not know what is going on.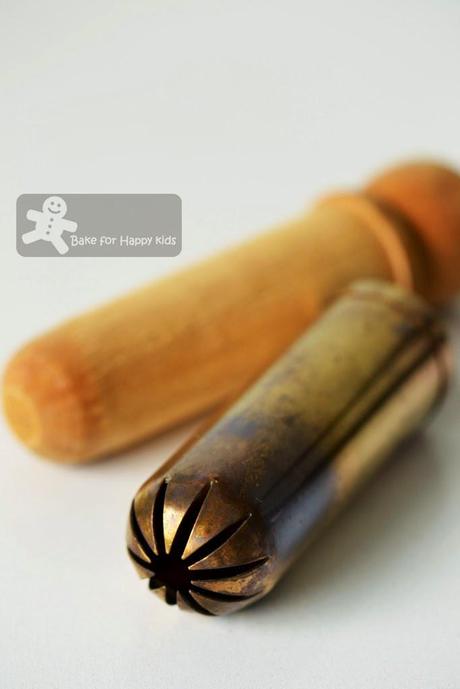 See this!
My grandmother did baked biscuit samprit before...
For some strange reasons, we didn't bake these cookies together.
This post is linked toCook and Celebrate: CNY 2015 organised by Yen from Eat your heart out, Diana fromDomestic Goddess Wannabeand me fromBake for Happy KidsPlease link your post with us if you are also cooking or baking something special for your Chinese New Year celebration for the whole of February 2015.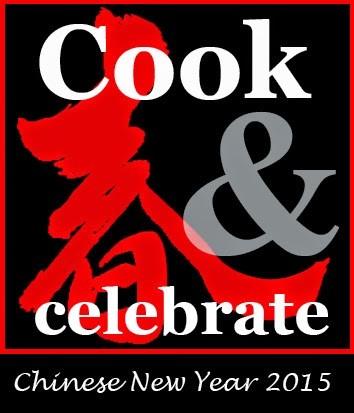 To use this linky tool, please make sure that: (1) Your post must be a current post. (2) Please mention Cook and Celebrate: CNY 2015 in your post and link back to us, Yen from Eat your heart out, Diana from Domestic Goddess Wannabe and Zoe from Bake for Happy Kids.
Here are my blogging friends that have joined me cooking / baking for this event. Please visit their blogs for more of their delicious and auspicious food.
An InLinkz Link-up
This post is also linked to the event,
Little Thumbs up
organised by Doreen from
my little favorite DIY
and me,
Bake for Happy Kids
, hosted by Grace from
Life can be simple
at
this post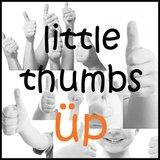 Our Little Thumbs Up event starts on the first Tuesday until the last day of the month. Please join us! To join, simply cook or bake any recipe with the theme of the month which is Chocolate for Feb 2015 and link with us at this post anytime until 28th Feb 2015.
What after Feb 2015? Faeez from Bitter Sweet Spicy will be the next hostess of Feb 2015 and her theme is BANANA! Her Little Thumbs Up event starts on the first Tuesday of Mar 2015 (3rd Mar 2015) until the last day of the month.
Don't forget your thumbs up or display this badge! And make sure that: (1) Your post must be a current post preferably within this month. (2) Please mention Little Thumbs Up in your post and link back to Bake for Happy Kids, my little favorite DIY or/and Grace from Life can be simple. For more details, please see this.
-----
Don't forget to take part 
to win 
US$160 Paypal cash!
For the first time, 16 fabulous cooking bloggers have come together to bring you the chance to start the Year of the Ram in the best way - by winning an ang pow*!
To take part, simply complete the Rafflecopter below. Open to all international readers.
a Rafflecopter giveaway
This Giveaway is brought to you by:
Diana from The Domestic Goddess Wannabe
Zoe from Bake for Happy Kids
Alvin from Chef and Sommelier
Ann from Anncoo Journal
Cheryl from Baking Tai Tai
Doreen from My Little Favourite DIY
Fion from XuanHom's Mom Kitchen Diary
Jasline from Foodie Baker
LY from LY's Kitchen Ventures
May from Mayck-law
Ms B from Everybody Eats Well in Flanders
Regina from Mummymoo
Sharon from Delishar
Susanne and Phay Shing from Lovingcreations4u
Veronica from Peng's Kitchen
Victoria from Victoria Bakes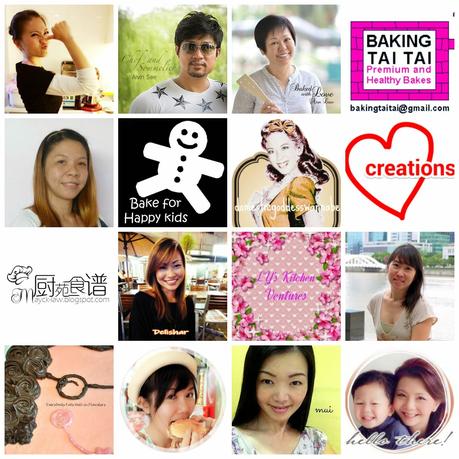 *Terms and conditions apply. One prize of US$160 will be sent to the winner via Paypal. An email will be sent to the winner to notify him/her of the win. If the organiser (Diana) does not receive a reply within 48 hours, another winner will be selected. Please note if the winner does not have a valid and working Paypal account, another winner will be selected.