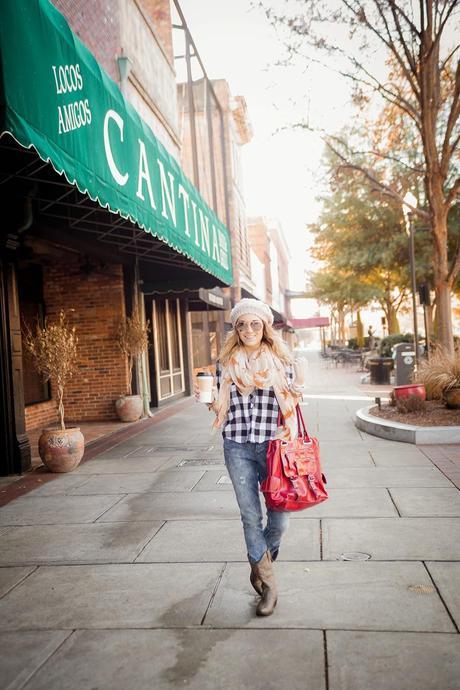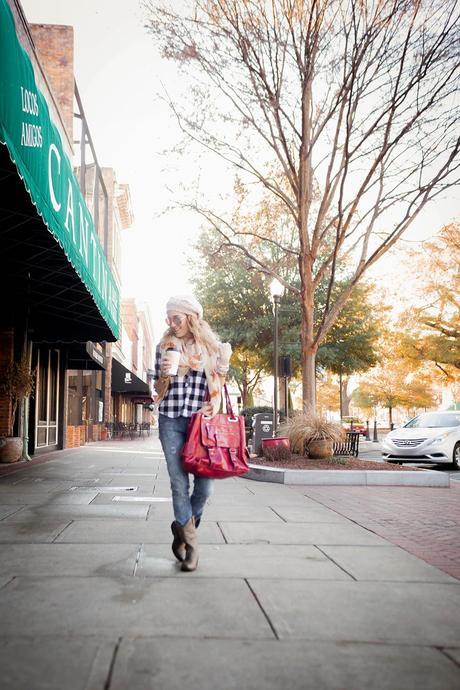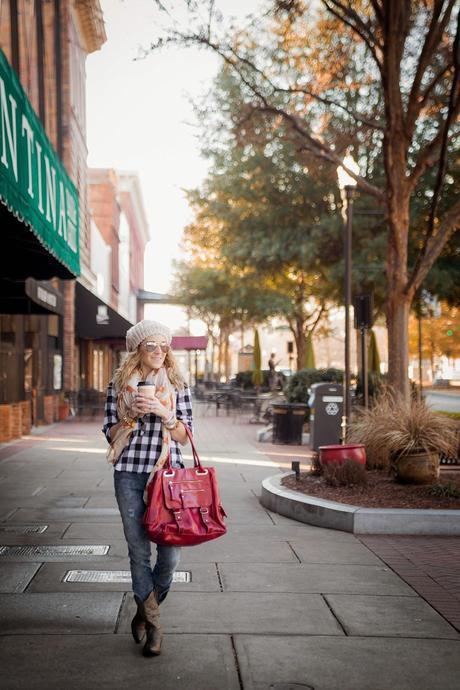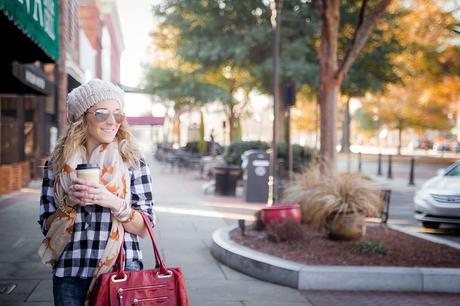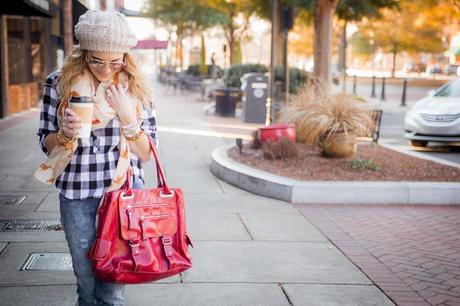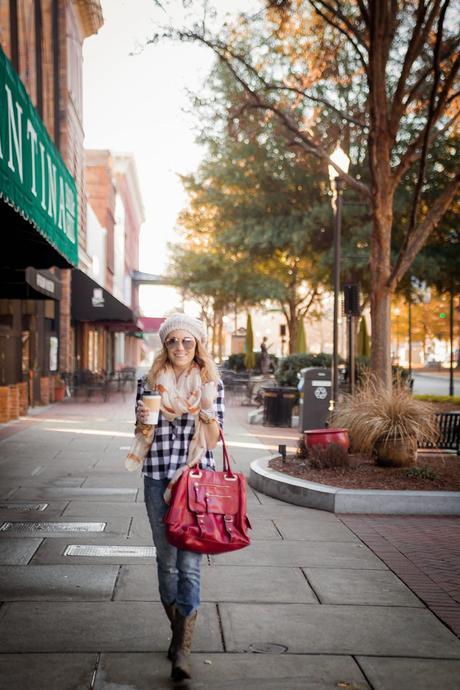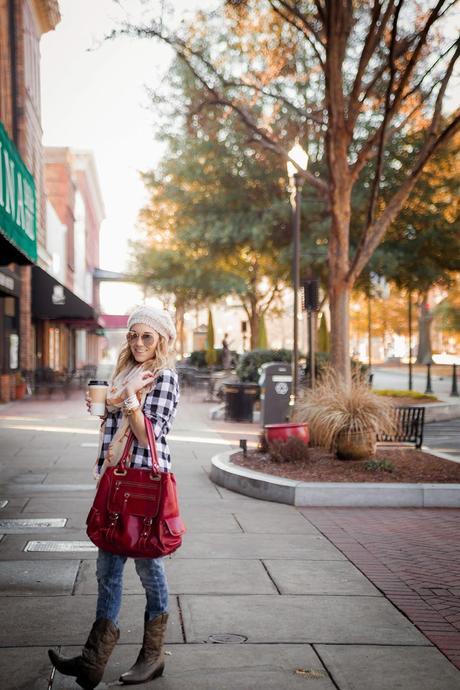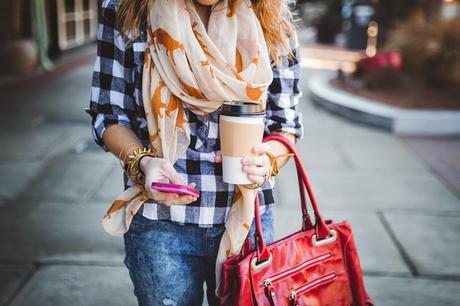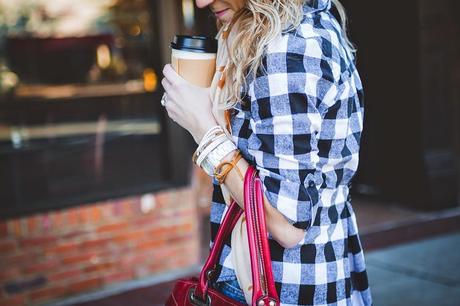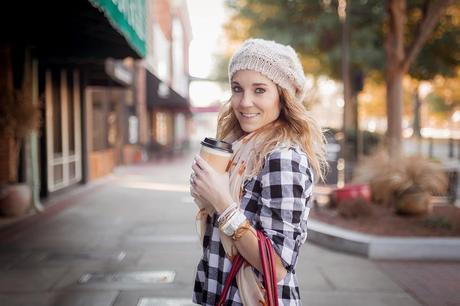 ALF Boutique top// Express jeans (this wash not available online)// ALDO purse (old but similar here)// Scarf via Jane.com// Michael Kors watch// Lacelet bracelet// Metal Marvels bracelets (sold out but go find some sweet stuff and use samantha20 for 20% off)// Sweet and Spark bangles// Target cowboy boots//Express sunnies// Photo credit: Amy Hess Photography
Birthday weeks used to be the best. Especially in college; Monday Marg night, 90's/Country Tuesday, 80's Wednesday, Taco/Thirsty Thursday, birthday party on Friday, day drinking on Saturday and Sunday, well recover. Your roommates spray painted sheets to tell the world you were 21 and you got to wear a crown for days without anyone thinking you were nuts. 
But as I prepare to turn 28, it's not nearly as exciting. We have no real plans and to be honest, I'm totally okay with that. My energy is spent making other people happy at this point. I wanted to throw the best parties I could for my little ones and that will be where my energy focuses for the rest of my life. Of course
my
day still matters, although after becoming a mom, I'm thinking my own mom is the one that deserves the flowers or presents at this point. Motherhood is HARD. 
Another year older means a great chance to reflect on the person I am today. A person who's been through hell and back, dealt with heartbreak after heartbreak. Been mistreated and let down and lied to. A person who has had to muster strength when I didn't think there was a single ounce of it left in my body. A person who is surrounded by wonderful family and friends, but then still questions some relationships I have with others. A creative person, who finds their happiness in creating and writing. A person who isn't quite sure what she's going to do the rest of her life but is perfectly content being a wife and mother and pouring my soul into this space for now. 
I'm not perfect and I never pretend to be. I'm working on being a better wife and mother and taking better care of myself. I sometimes forget to eat, or shower, or do something I'm supposed to do because someone else needs me first. And while it's exhausting at times, I wouldn't trade it for the world. These crazy little humans make me happier than I ever thought possible. 
A mom of 2 at 28? Never would have seen that one coming. I mean, I had always imagined it that way when I was younger but when I was single and dealing with a shit storm of a life at 23, that was the last thing I imagined.
I remember the day I met Zach, and felt that my whole life was changed. 
The day he asked me to marry him. The day I said I do. The day we found out we were moving to New York.The day he told me he was deploying to Afghanistan.The day I took my first pregnancy test. The day I kissed him goodbye and sent him overseas.The day he came home for R&R.The day we met Nolan for the first time. The day I sent him back to Afghanistan. And then welcomed him home again.The day we found out we were leaving New York. The day I took my second pregnancy test. The day we left New York. The day we moved to Georgia. The day we met Paislee. The day Zach told me he was deploying. Again.The day I kissed him goodbye. And the day I welcomed him home. 
I remember these days, these milestones, because they have truly shaped me into the person I am today. God has tested my patience, my strength, my faith, and my love. He has showed me there is in fact a rainbow after a storm. That it's not the
things
in life that matter, but rather the people. It's not about pleasing others or conforming to be someone you're not.
But rather how you feel at the end of the day. How happy you are and how proud you are of yourself. And as I stand on the edge of 27 and jump to 28, I know there are still a ton of things I need to work on. But that day in and day out, I do the best I can. And I give life everything I can. 
27 was probably the craziest year of my life, and I'm definitely ready to meet you 28 :)