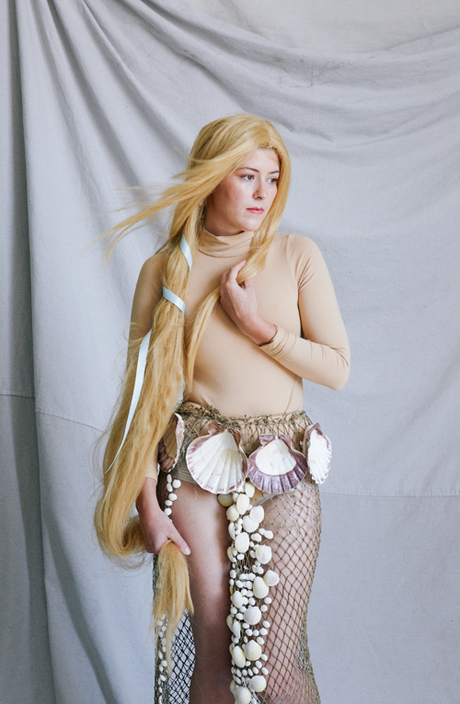 Happy Monday! We have just a couple more costumes and the final dinner party to share with you to complete our Vanitas Halloween. Let's continue with the Birth of Venus! 
Birth of Venus was painted by Sandro Botticelli in 1486 as commissioned by the Medici family. It depicts the goddess of love, Venus emerging from the ocean as a full-grown woman. There are a lot of interpretations on the painting, but it's generally thought to be a depiction of the birth of love and spiritual beauty as a driving force of life. Read more about it
here
.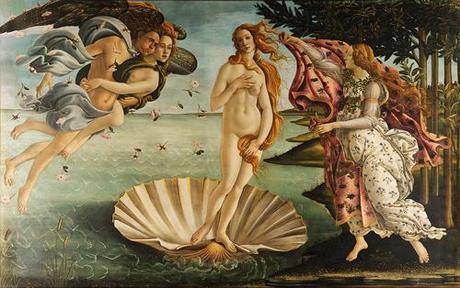 We decided to do an adaptation of Birth of Venus (shockingly, we don't do nudity here on Lars). But for those of you who like to do artistic sexy Halloween, I suppose this is your chance. We went with a body--you're welcome.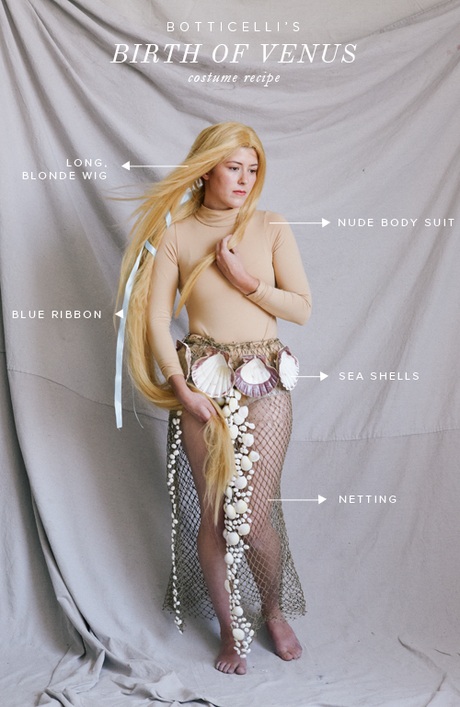 Photography by Alpha Smoot
Make-up by Rubie HuberCrafting and modeling by Hillary GallupArt directed by Brittany Jepsen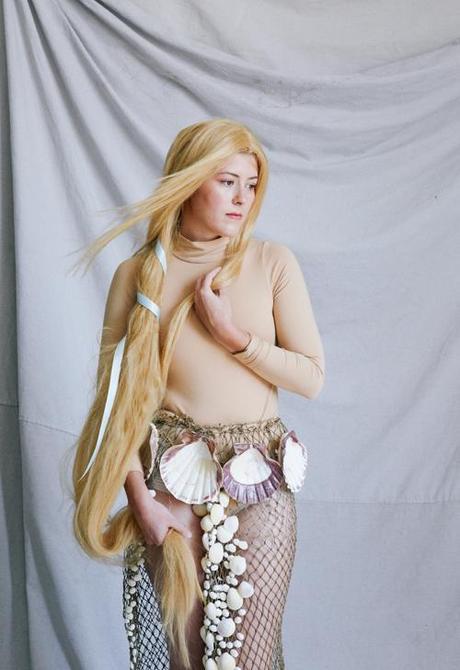 Materials:
Decorative netting (from here)

Glue gun

Large and small seashells (We got ours from Hobby Lobby: Big shells, medium shells, small shells)

Wire 

Ribbon for hair (We got ours from Joann)
To make the skirt:
Wrap the decorative net around the waist & secure it with wire or safety pins.

Remove from body and place paper under netting.

Use hot glue to apply the shells onto the netting. 
Voila!
For the wig:
Once you get your wig (we got ours from here), you will need to trim it to your desired length and fullness (as this one is REALLY long and unshapened). Just get out your handy scissors and go to town!Note:
If you don't feel comfortable going with bare legs, you can try these nude leggings.
Make up tutorial by Rubie Huber
Venus!  The epitome of natural beauty!  I wanted her (and your!) own natural beauty to shine out, so go for minimal foundation. Instead, spread a BB cream or tinted moisturized across your whole face for a healthy glow. Use just small bits of concealer under the eyes, around the nose, and on any blemishes.  
Define those eyebrows subtly with the ELF eyebrow kit (
get it here
). I love ELF! so cheap and easy.
To get a golden look I used the same
shimmery bronzer (get it here
) for both cheeks and eyes. In fact bronzer as eyeshadow is one of my favorite things.  Yay for multi-use! Go for an all over bronze shimmer on the eyelid, and the cheekbones.  Sweep it back into the hair line.  Spread a thin layer everywhere for an all over glow.  Use your finger or a smaller brush to swipe across the brows and down the bridge of the nose.  
Find a peachy nude lipliner--I like Revlon colorstay in rose (get it here)--to lightly fill in the lips. I like to line, then smudge inward so you get just a little color, and add on a shiny clear chapstick for the fresh natural lips. 
image of painting from here.