Evening one and all,
I have a very interesting chart today of Biosensors, B20.SI. Right off the bat, I want to point out a dangerous-looking, mature head and shoulders pattern. If you have been monitoring Biosensors over the last few years, you will know Biosensors went on one of those straight northward runs that just seem to go on forever. At the start of this year, however, Biosensors made a top at $1.70. It has since fallen down to the $1.10 region. The moving averages are showing bearish signs – death cross, price below 200-day MA, and turning down of 200-day MA.
Price is hanging on to support from a previous low, and the neckline of the unconfirmed head and shoulders. Pulling out fibonacci retracement levels, the 38.2% level is currently in play as support also. All these events tell me Biosensors is at an important support zone. A traditionally bearish pattern looming on the chart prompts me to get ready a short on Biosensors. A few more trading days will give us a better picture.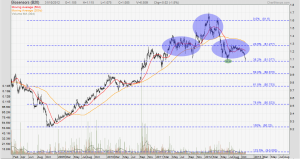 All analyses, recommendations, discussions and other information herein are published for general information. Readers should not rely solely on the information published on this blog and should seek independent financial advice prior to making any investment decision. The publisher accepts no liability for any loss whatsoever arising from any use of the information published herein.