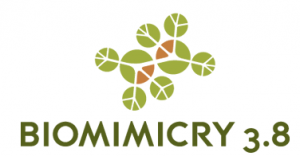 Starting with the release of her book Biomimicry: Innovation Inspired by Nature in 1997, Janine Benyus has been building a following around the concept of biomimicry, or imitating nature. The book served as the foundation for the Biomimicry Guild the following year. In 2006, the Biomimicry Guild took hold with the vision to promote "learning from and then emulating natural forms, processes, and ecosystems to create more sustainable and healthier human technologies and designs." Two years later AskNature.org launched. The website is "a free, open source project, built by the community and for the community. Our goal is to connect innovative minds with life's best ideas, and in the process, inspire technologies that create conditions conducive to life."
With all of these wonderful components, the next step was to bring them under one umbrella. That is where Biomimicry 3.8 comes in.
Biomimicry 3.8 is a new branch on our evolutionary tree. It's a new species of company with a global reach that weaves together our non-profit and for-profit goals. Biomimicry 3.8 extends and expands upon our heritage of bringing together scientists, engineers, architects, and other innovators to create sustainable technologies and business practices.
The 3.8 refers to the sustainable world that has developed over the past 3.8 billion years in which life has existed on earth.
Janine Benyus, founder of the Biomimicry Guild, explains the new "species'" intent in the following video:
Introducing Biomimicry 3.8 from Biomimicry Group on Vimeo.
[Image source]