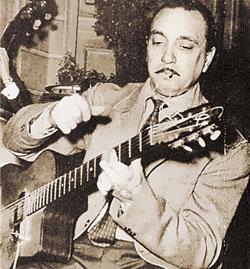 Django Reinhardt and his fellow musicians in 'The Quintette du Hot Club de France' enjoyed their fame and toured across Europe on 1930's and popularized their unique Gypsy jazz. But suddenly WWII broke on 1939, when they were on concert tour in England .This event had forced them to stay for years in England. But Django Reinhardt decided to return to Paris, leaving his wife in England.  
In Nazi-German occupied Paris, Reinhardt reformed the Quintette with some additional musicians. He placed his own son, Lousson Reinhardt and his brother Joseph on rhythm guitar sections, and Hubert Rostaing on clarinet section, replacing Stephane Grappelli on violin. This band was named 'Django et le Quintette du Hot Club de France' and sometimes called as Django's 'Nouveau Quintette'. 
Nazi-German occupation era was difficult time for Gypsy people. Nazi systemically murdered several hundred thousands of Gypsy people, and they also disapproved jazz as lower class music than their classic music. Django Reinhardt and his family faced a big danger by living in Paris, but surprisingly he survived from mass murder by Nazi. He was survived because he was protected by some jazz-lover Nazi officers, notably by Luftwaffe (Nazi-German Air Force) officer Dietrich Schulz-Köhn, nicknamed 'Doktor Jazz'. However in this era Reinhardt and the Quintette only released few recordings (including 'Nuages', his famous composition which later to become a jazz standard) and Reinhardt had to seek other music style to keep them out of Nazi's watch list.
Reinhardt reunited with Grappelli shortly after the war in England. In 1946 the Quintette started a concert tour in US, which was a big hit at that time. The Quintette played together with Duke Ellington and his orchestra, and gained big applause by audience. Django Reinhardt returned to France in February 1947. The Quintette did some music project until 1948, when Reinhardt started to show some behavioral change. Reinhardt would wander off to beach or park, skip his own concerts, or show up on concert without guitar. In 1949 he recorded his last album 'Djangology'.
Reinhardt died on 16 May 1953 by brain hemorrhage, at age 43. But his legacy in Gypsy jazz music still influence our jazz world today.