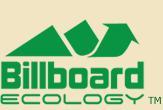 While the number of electronic billboards is on the rise, most billboards are still comprised of a single banner. Neither type of billboard ranks high in terms of sustainability. Even the electronic ones that use LED lights to conserve energy are still using electricity where older banner style require huge inputs of materials, but do not need to be lit up during the day. Night time illumination is an issue for both.
When a billboard advertisement (aka "the banner") is taken down, it often ends up in the landfill. According to Frequently Asked Questions from Comstor Billboards, vinyl displays are used instead of paper. Comstor uses vinyl because "customers want reliability and results. Which is why we use a high quality product that provides guaranteed visibility year after year. Unlike paper, our product doesn't rip, fade or tear." In fact, they guarantee it for the duration of the contract. This durability is important, but the vinyl is not easily recyclable.
This is where Billboard Ecology, a Colorado based company founded in 2008 comes into play. They "take retired advertising billboards, rescue them from a date with the landfill, and make them into great tote bags and other unique items." They refer to the process as "upcycling" as opposed to downcylcing, which occurs when a material is broken down into a new product of reduced quality or functionality. As an added bonus, the company has a number of opportunities for groups like schools to raise money (and awareness) through selling their products. Furthermore, all of their products (various types of bags) are manufactured in the U.S.
Last month I came across an advertisement for Chipotle's lunch bag in their store and found that it too was made by Billboard Ecology. As part of their Earth Day activities, Chipotle was running a special for their lunch bags: Buy a Billboard Ecology lunch bag by April 14th and get a free burrito on Earth Day. Not a bad deal (though the 14th has passed).
[Image source]