New to little Indiana? Subscribe for free to my RSS feed. Thanks for stopping by!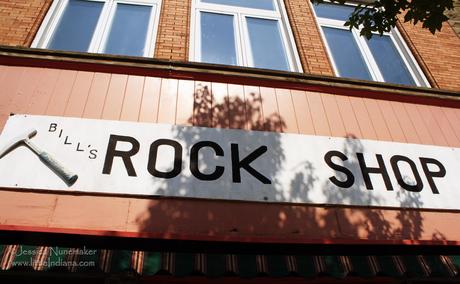 Delphi, Indiana: Bill's Rock Shop
little Indiana
Delphi, Indiana
Precious stones, fossils, and geodes, from large chunks of rock to jewelry, there's a lot at which to look at this Carroll County find.
Bill's Rock Shop in Delphi, Indiana
Though Bill has since passed on, you'll find Bill's wife behind the counter and ready to help.
Small though this Delphi shop may be, it is absolutely packed with rocks!
All shapes, sizes, and colors, this is one shop that's so much fun to browse. In fact, hubs and I can't wait to get back there–with Kid #1 in tow.
Unique Indiana Shop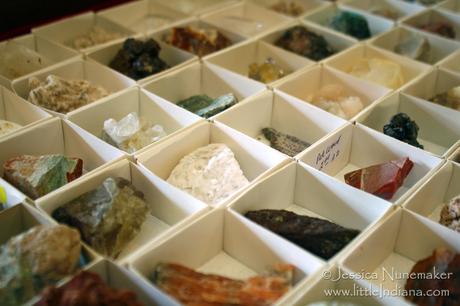 Delphi, Indiana: Bill's Rock Shop
Now, I've visited a lot of small towns. A lot a lot of Indiana small towns! But I can tell you one thing–this is the first rock shop I've ever seen.
It was so much fun! There's a whole lot of interesting rocks out there. So many colors, shapes, and sizes. Who'd a thunk it?
There are some giant pieces here. My favorites? Well, I liked all the sparkly rocks!
We picked out some interesting chunks for our two boys. Kid #1 uses them as treasure for his Lego people.
Vintage Finds at Bill's Rock Shop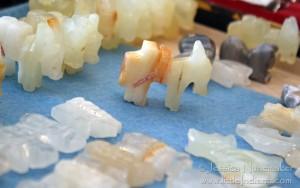 Delphi, Indiana: Bill's Rock Shop
If rocks aren't your thing, know that there is a section at the back of the shop with all sorts of vintage stuff for sale.
Glass bottles, old irons, toys…there's a lot back here, too. Seriously, these shelves are packed full of things your grandma once owned. Browsing through Indiana antiques is so much fun!
I don't think I've ever seen so many old irons and glass bottles in my life!
Delphi Shops
There's always something new to discover in little Indiana! When you're in Delphi, you've got to check this one out.
See Bill's Rock Shop images and other pictures in Indiana on my Flickr photostream.
Bill's Rock Shop
113 South Washington Street
Delphi, Indiana 46923
765.564.3073

View Larger Map
little Indiana: Where to Stay, Play, and Eat in Small Towns in Indiana. Discovering Indiana's best small towns!Now get little Indiana on your Kindle.
Targeted. Relevant. Affordable! little Indiana advertising!