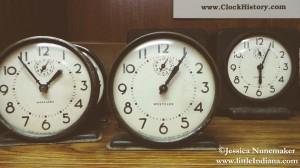 Bill's Clockworks in Flora, Indiana
You've never seen so many clocks in one space like you will at
Bill's Clockworks in Flora, Indiana
!
The shelves and walls are full of so many kinds of clocks.
Bill's Clockworks in Flora
There's a photo inside the tidy shop that shows a twenty month old Bill looking intently at a clock. He's never the lost the passion for them in the days since!
As a child, his grandfather first introduced him to winding and regulating clocks. As he grew older, he tinkered and learned so that when it was time to head to college, he was all in.
With a MSEE (Master of Science Electrical Engineering degree) behind him, he did digital circuit and IC design, later designing semi-custom integrated circuits for video display boards. But in 1991, he decided to open up his first clock shop in Indianapolis. He and his wife, Kim (a pastor), decided to move to Flora, her hometown. 
Flora, Indiana Clock Repair and Sale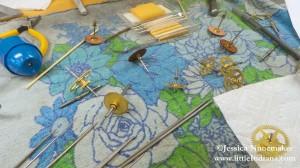 Bill's Clockworks in Flora, Indiana
Long-time area residents will remember Bill's Clockworks as
the site of the old Rainbow Cafe in downtown Flora
.
Now, tall shelves take up the center space. Clocks are attached to the walls and sit in the window all around. Each tall section features a clock for sitting or a hanging cuckoo clock.
There are clocks of all kinds! Some are elaborately detailed and feature wonderful moving parts and terrific chimes or short musical scores. Others are simple and inexpensive. There's something here to fit any home–even a modern, minimalist one!
Though there are plenty of clocks here for sale, this Indiana clock shop also offers repairs! He's currently got a two month backlog so if your clock needs a bit of work–don't hesitate. Bill services Carroll County and beyond.
Go There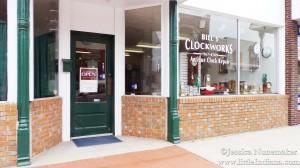 Bill's Clockworks in Flora, Indiana
Our oldest son, age 9, was so inspired by the clock shop that he started
requesting clocks to take apart
so he could study them. He got his wish a few weeks ago and has been in clock heaven ever since.
Flora, Indiana has a population of just over 2,000 people. Yet, even here, you'll discover a slew of fantastic family-owned shops like this that put the fun back in shopping and browsing!
Bill will ship so be sure to get in touch to support a great local business.
Small Towns: Destinations, not Drive-Thrus! I'm Jessica Nunemaker and THIS is little Indiana!
Find pictures in Indiana on my Flickr photostream or on the new little Indiana Tumblr blog.
Just don't forget to tell 'em that  little Indiana sent you!
Bill's Clockworks
8 W Columbia Street
Flora, IN 46929
574.967.4709

Don't miss a moment. Subscribe to little Indiana and receive instant updates to stay on top of everything "little."
little Indiana: Where to Stay, Play, and Eat in Small Towns in Indiana. Discovering Indiana's best small towns! Now get little Indiana on your Kindle.
Targeted. Relevant. Affordable! little Indiana advertising.