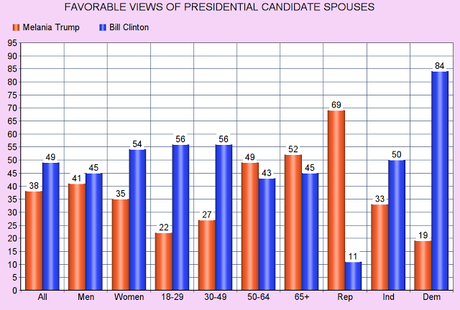 I doubt that this survey means anything, but I thought it was interesting. It is the recent Gallup Poll regarding the popularity of the spouses of the presidential candidates. It was done between August 3rd and 7th of a random national sample of 1,032 adults, with a margin of error of 4 points.
It seems that Bill Clinton is 11 points more popular than Melania Trump. But what I found more interesting is the difference shown among the age groups. Those 18-29 give Bill a 34 margin and the 30-49 group gives Bill a 29 point margin. But older Americans like Melania slightly better -- with the 50-64 group giving her a 6 point edge and those 64 and over giving her a 7 point edge.
Also interesting is that Republicans don't like Melania as well as Democrats like Bill. She gets 69% among Republicans, while he gets 84% among Democrats -- a 15 point difference.