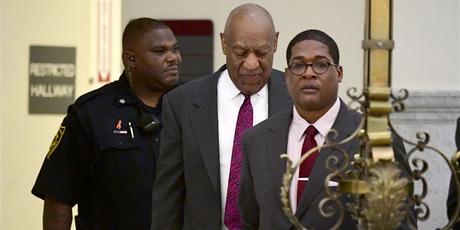 (This photo of Bill Cosby arriving for court on Wednesday is from NBC News.)
Bill Cosby has been found guilty of three counts of sexual assault in Morristown, Pennsylvania. I have to admit I am slightly shocked at the verdict. Far too often in this country celebrities are allowed to get off on offenses that others would be convicted on.
While I believe the verdict was the correct one, it does sadden me somewhat. For most of the years of my life, I had loved and respected Bill Cosby -- only to find in my senior years that he was a degenerate. It just goes to show that we never really know what the celebrities we know are really like.
There is a maximum sentence of 10 years on each count. I doubt Cosby will receive the maximum of a possible 30 years, but I do think he needs to be sent to prison. Probation would not be appropriate.
QUESTION -- Donald Trump has done things equally bad (and I believe probably even worse). When will he get his turn in court?