More than a year after women began going public with accusations that actor-comedian Bill Cosby had drugged and raped them, the proverbial chickens finally are coming home to roost for the serial rapist.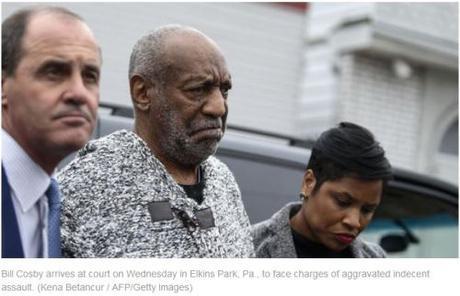 The Los Angeles Times reports that yesterday, Dec. 30, 2015, on the eve of the statute of limitations running out on the claims of the first woman to accuse Bill Cosby of drugging and sexually assaulting her, prosecutors in Montgomery County, Pennsylvania charged 78-year-old Cosby with the alleged 2004 assault.
Dist. Atty. Kevin Steele told reporters the charge stems from "new evidence" uncovered this year – including Cosby's own statements in a civil lawsuit recently unsealed by a judge, in which he admitted having given drugs to women he wanted to have sex with.
The criminal charge comes after a dramatic year in which more than 40 women came forward with a torrent of similar accusations against the comedian, spanning four decades. Steele's decision is a reversal of a decision by his predecessor in 2005 not to charge Cosby, who told police at the time that the sexual contact was consensual.
Cosby, walking unsteadily with a cane and looking frail, arrived for arraignment before District Court Judge Elizabeth McHugh in Elkins Park, a suburb of Philadelphia, shortly before 3 p.m. EST. Bail was set at $1 million, which was immediately posted.
The complaint identified Andrea Constand, a former Temple University basket-ball coach, as the alleged victim in an incident at Cosby's home in Cheltenham Township, near Philadelphia, in January or February of 2004. Constand has publicly accused Cosby and filed a lawsuit against him, which was settled in 2006. Constand, 42, has since moved to Canada.
At the arraignment hearing, McHugh warned Cosby that as a condition of his bail, he should not contact the victim or her family. "If that occurs, you could be arrested," the judge said. Cosby responded that he understood.
Cosby, clad in a gray hooded sweatshirt and black velour sweatpants, was led away after the brief hearing to the township Police Department to be processed and fingerprinted.
Steele said in an earlier press conference announcing the charges that the alleged victim "has indicated that she is willing to cooperate with us going forward."
Following news of the charge, attorney Gloria Allred, who represents 29 women who say they were abused by Cosby under similar circumstances, held a press conference saying she welcomed the prosecution even if it the statute of limitations had expired for most of her clients. "Seeing him criminally charged and having to face a trial is the best Christmas present they have ever received," she said. "I'm very happy this day has finally come."
Allred said many of her clients were willing to testify in the Pennsylvania case if they are asked by prosecutors there.
The case in southeast Pennsylvania, which could send Cosby to prison for as many as 10 years if convicted, marks the first time criminal charges have been filed against him.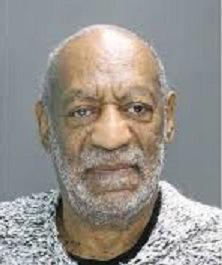 Bill Cosby's mugshot
Feminists tell us that rape is about power, not sex. Certainly, being the Hollywood success that he was, if he had wanted sex, Cosby could have any bimbo he wanted. And since most of his victims are young white women, I believe Cosby's drugging and raping them was his exertion of power over whites.
Bill Cosby's rage and contempt for the "white" society that made him a multimillionaire, with an estimated net worth of $400 million, is the true face behind that genial, affable mask he'd worn all these years.
See als0:
Bill Cosby is an enthusiastic uncritical Obama supporter
Bill Cosby, the serial rapist
~Eowyn