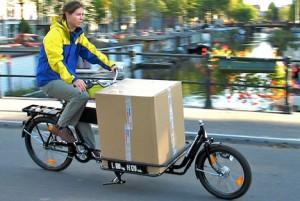 While cities are actively putting in bike lanes and supporting other initiatives that enhance biking like commuter bike programs and public air pumps, the bike is still thought to be a means to move an individual across town. This is a great goal in and of itself, especially so long as it keeps people out of their cars and allows for exercise. But in this paradigm, the bike's role is narrow, for individual transport alone, and the car or truck remains necessary for the hauling of goods. Who is to say, however, that the bike can't also help haul goods? Pedal power should not be underestimated.
Many individuals are recognizing the power of the bike to transport goods. Pedal-powered freight delivery is taking off in cities across world, delivering produce, baked goods, bike parts, office supplies– you name it– to wanting customers. There are a variety of iterations of these bikes. Some rely solely on man and his two feet, while others allow for the assistance from electricity. Either way, embracing the power of the bike to move goods can help reduce pollution, road damage and the energy consumption associated with the movement of freight. And there's the small point that these bikes don't cause traffic jams like delivery trucks often do.
Cyclelogistics, a project funded by the European Union, published a study that measured the potential of using bicycles to transport goods in European cities. The result? They found that a whopping 51% of all private travel or work related to the transport of goods could be made by bike or a cargo bike. Bike cargos, the study argues, can use a denser road network, need less space for parking, and are much faster over short distances and during peak hours. The study concludes that cargo bikes are perfect for carrying light loads (170-440 lbs or more) over short distances. In other words, bike cargos are the ideal solution for use in city centers and urban areas– and lets not leave out the college campus.
Some places in the US are embracing cargo bikes for product delivery. B-Line Sustainable Urban Delivery and Portland Pedal Power, for example, are two bike delivery systems in– you guessed it– Portland.
If bike cargos are a great way to move goods in an urban center, what would it take to make them mainstream? For one, companies that work with both B-line and Portland Pedal Power note that these companies are not necessarily cheaper; they work with them because it's a good thing to do. Recognizing that cargo bikes are a viable option, and that the environmental benefits are huge, perhaps there are subsidies or other policy solutions that can help expand and enhance these systems. It's exciting to think about possibilities– but it's also important. Bikes have changed how we transport people. Now it's time to think about how just how a bit more pedaling can change the way we transport goods and, in the end, make our communities that much more livable and sustainable.