On May 31, 2014, Obama defied a federal law (Sec. 1035 of the 2014 National Defense Authorization Act) and released 5 dangerous Taliban terrorists from Gitmo in exchange for Army deserter Bowe Bergdahl. The POS justified the prisoner swap by saying the United States "never leaves one of our own behind."
The POS clearly does not include U.S. Marine veteran Sgt. Andrew Tahmooresi, 25, as "one of our own." On the day Bergdahl was liberated, Tahmooresi already had languished in a Mexican jail for TWO months.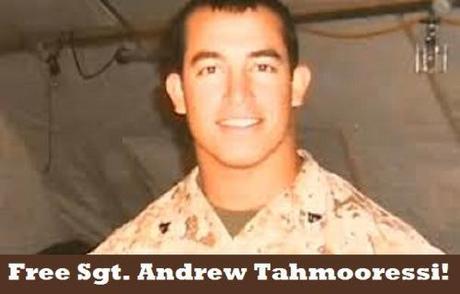 On March 31, 2014, Tahmooressi was headed to dinner with friends in
San Ysidro
on the Californian border with Mexico, when he missed a freeway exit and mistakenly wound up at a border crossing point in Tijuana where Mexican authorities found three registered guns inside his truck. Tahmooresi was arrested and is being held in Tijuana's La Mesa Penitentiary without bail.
The Obama administration has not demanded Tahmooresi's release. So a group of patriotic bikers are on their way to Tijuana to rescue the Marine, with John Harrington of Shield Tactical leading the charge.
The bikers are calling on fellow patriots to go to south San Diego and meet up at the Mexican border for a rally this weekend, to demand the Mexican government release Sgt. Tahmooresi.
The POS is also ignoring two Americans who are still being held by the Taliban in Afghanistan: Caitlan Coleman and her one-year-old child.
In an article for American Thinker, former Vietnam War POW Michael Benge draws our attention to the plight of the American woman.
In late 2012, while traveling in a mountainous region near the Afghan capital Kabul, Caitlan, who was pregnant, and her Canadian husband Joshua Boyle were captured by the Taliban. Videos of the captives were emailed to Caitlan's parents in July and September last year, so the Obama Administration was well aware of their plight while negotiating with the Taliban for Bergdahl's release.
Benge writes: "One can only wonder why the major news media and even Obama's critics are ignoring this question during the current debate. If a Republican president had carried out such an outrageous swap while leaving Caitlan and her child behind, there would be shrieks about a war on women."
H/t FOTM's Wild Bill Alaska and Chairman of the National Vietnam & Gulf War Veterans Coalition John Molloy.
~Eowyn