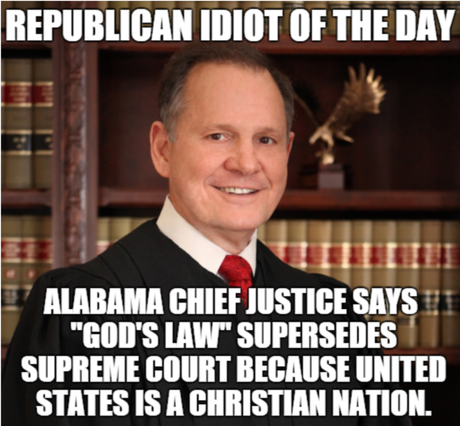 A few days ago, U.S. District Judge Callie V.S. Granade issued a ruling that declared Alabama's ban on same-sex marriages to be unconstitutional. The state of Alabama asked Judge Granade, the 11th Circuit Court of Appeals, and the U.S. Supreme Court for a stay of the decision -- and was turned down by all three. This means same-sex marriages should be legal now in Alabama.
But then Chief Justice of the Alabama Supreme Court (a religious bigot who has already been removed from office once for defying federal courts) entered the fray. He declared that "god's law" was more important than the Constitution, and ordered all probate judges (who must sign marriage licenses in the state) to refuse to sign those licenses for same sex couples.
This created a real mess in Alabama -- with 23 counties issuing same-sex marriage licenses, 18 states still issuing licenses only to opposite-sex couples, and 26 counties not issuing marriage licenses to anyone.
A same-sex couple in Mobile county (one of the counties refusing to issue any licenses at all) tried to get a marriage license last week and were denied. They took the matter back to the court of Judge Granade, and on Thursday Judge Granade issued an injunction against the probate court in Mobile county, saying:


"Probate Judge Don Davis is hereby enjoined from refusing to issue marriage licenses to plaintiffs due to the Alabama laws which prohibit same-sex marriage. This injunction binds Judge Don Davis and all his officers, agents, servants and employees, and others in active concert or participation with any of them, who would seek to enforce the marriage laws of Alabama which prohibit or fail to recognize same-sex marriage."


The judge's order should apply to all probate judges in all Alabama counties, but some are still holding out -- and following Roy Moore's illegal order to defy the federal court. Here are how the Alabama counties break down as of the writing of this post:
ISSUING LICENSES TO SAME-SEX COUPLES


Autauga, Bullock, Butler, Calhoun, Chilton, Coffee, Conecuh, Crenshaw, Dallas, Elmore, Etowah, Jackson, Jefferson, Lawrence, Limestone, Lowndes, Madison, Mobile, Monroe, Montgomery, Morgan, Perry, Wilcox and Winston.


ISSUING LICENSES ONLY TO OPPOSITE-SEX COUPLES


Baldwin, Chambers, Clay, Cleburne. Covington, Dekalb, Escambia, Greene, Lee, Macon, Marengo, Pickens, Shelby, Sumter, St. Clair, Talladega, Tuscaloosa, Washington.


NOT ISSUING LICENSES TO ANYONE


Barbour, Bibb, Blount, Cherokee, Choctaw, Clarke, Colbert, Coosa, Cullman, Dale, Fayette, Franklin, Geneva, Hale, Henry, Houston, Lamar, Lauderdale, Marion, Marshall, Pike, Randolph, Russell, Tallapoosa, Walker.


This is ridiculous. The U.S. Supreme Court has refused to issue a stay of Judge Granade's ruling -- and that means same-sex marriages are now legal in Alabama. Refusing to issue those licenses is currently a violation of United States constitutional law. Justice Roy Moore should once again be removed from his office for ordering the violation of the Constitution -- and if possible, kept off the bench for good.
The Supreme Court of the United States will hopefully decide this matter for good next summer -- but that is no excuse for the current illegal actions of Justice Moore (or those who follow his lead).