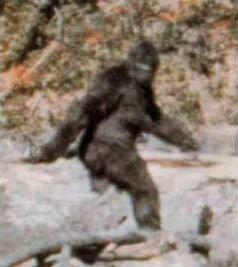 Image via Wikipedia
Bigfoot: Fact or Fiction?
Imagine if you will:
It is just another day delivering packages to the locals,
driving down a long country road going from drop off to drop off. The next
stop, a routine house on the route, seemed to be the normal stop and drop; then
something frightens you to the point of flight. Fight never thinking of
entering the thought process. This sounds as if I am describing a scene from a
horror flick; on the contrary, this indeed happened to Jan Thompson, a delivery
person from Ballard County, Kentucky. In "Forest
Creature", Jan tells her terrifying tell of seeing what she describes as a
8 foot, 500 to 600lb, thick furry shadow in the woods behind the house she was
delivering to that day. In this article, Jan states what she saw through her
fright:
"The
sound came from the thick group of trees and echoed over the fields in thick
vibrations. It was a mixture of a deep lion's growl that heightened into a
scream containing the same low, deep, load rhythm. I stood stunned, half scared
and half curious. From the area of the trees where the sound traveled from was
the figure of something very tall, very large in width and very strong, as some
of the smaller pine trees about 10 to 15 feet in height were being shaken back
and forth vigorously and violently. The figure itself was not totally visible
but hidden mostly behind the shadows of the larger trees behind and around it.
It was dark in color, guessing dark brown or black, with a thick furry outline.
It looked to have stood over 8 feet in height. It began moving along the edge
of the trees towards the house, just keeping inside the safety of the shadows"
(Thompson, 2011).
Thompson
is sure that what she saw was a 'yeti' or 'bigfoot'. Could it have been the
legendary creature she saw in the shadows? I suppose anything is possible. I
try to keep an open mind, just in case. Whether anyone believes Jan or not,
this creäture was indeed very real to her. Thirty years old and seven months
pregnant, her hormones and emotions must have gone haywire. That being said,
there also may be another explanation for Jan's sighting. As I mentioned, Jan
was seven months pregnant, she also drives a delivery truck dropping packages;
it may be that she did not sleep well the night before, or even a night or two.
It has been suggested that as many as 75% of pregnant women suffer from
insomnia, and thus sleep deprivation sometimes can induce hallucinations
(Roberts, 2011).
Similarly,
coffee and caffeine, if ingested several times a day, added with sleep
deprivation, could make a person at higher risk for 'seeing' things others do
not; this may explain why many hunters' report seeing Bigfoot. Many women have
reported having episodes of hallucinations, which could also be caused from a
hormone imbalance, caffeine, and insomnia. Furthermore, sometimes woman, while
pregnant, develop diabetes; which can also cause a person to hallucinate.
Whichever the case, reasonable doubt that she actually seen Bigfoot can be
established (Roberts, 2011)
On
a side note:
The reason that I chose this story is because
I lived in Ballard County, Kentucky, in the exact area she speaks of. I
remember the town folk scaring the pee out of their charges with the Bigfoot
story to keep their behinds out of the woods and in toe. I never believed it
myself; an avid camper, I had camped at Land Between the Lakes and other areas
alone for years, never did see Bigfoot or any other creatures. Additionally, I
hunted the woods of Kentucky for many a year, and again, I seen no Yeti. I will
not go as far as to say that they do not, or did not ever exist, but, I will
say that in each case that I have researched, other explanations exists, and
therefore, cannot be dismissed.
References
Roberts, T. (2011, May
4). Treating insomnia during pregnancy. Buzzle.com.
http://www.bazzle.com/article/treating-insomnia
Thompson, J. (2011, May
4). Forest creature. Jan's Tales. Guardian Tales.
http://www.guardiantales.freespace.com/Jan-Forest.htm.
0.000000
0.000000