BigTimeTeez : BigtimeTeez.com is your #1 online source for the best Funny T-Shirts!
Welcome to BigTimeTeez home of the coolest Funny T-Shirts you've been looking for. BigtimeTeez carries all the popular Funny Tees you see around town. BigTimeTeez doesn't just specialize in Funny T-Shirts we also carry Beer T-shirts perfect for your next night out at the pub. We also carry Pop Culture T-shirts . We also carry some of the coolest Zombie T-shirts  on the web, in fact our Zombie Outbreak Response Team T-shirt has been purchased by many Zombie enthusiasts for their Annual Zombie Crawls! Being that we have a couple DJ's in the family we also manage to put out some really cool original Dj T-shirts  every now and then. We have also clothed MANY Wedding parties with our Tuxedo T-shirt as well as bachelor parties, and softball teams with the occasionalRude Humor T-shirts  but mostly we are known for our super rad selection of Funny Shirts .
 
 
 
There is nothing better then supporting cute,Funny, or Rude Offensive T-Shirts. If I could I would have nothing but in my closet for every day of the week. I love reading what others wear while in the grocery store, restaurant, or anywhere where T-shirts  are mandatory. I was given the awesome opportunity to review a couple of "Teez" from BigTimeTeez such as the Trophy Husband T-shirt (For my Husband) and My Skeleton Groping Hands T-Shirt.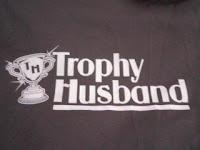 I love my Husband's (Grey) Trophy Husband T-Shirt! It has gotten so many stares from people when we go somewhere and he wears that Tshirt. (Giggles) Mostly from younger women at restaurants. My Husband Jeff and I make funny comments at the end of the day such as .. (Me) I bet she wishes she could take you away and make You Her Trophy Husband. (Him) More like she thinks you need better taste in Husband's. (Hahaha) .. It's silly but it makes the end of the day in (Wind down period) more easy and it gives us something to talk about before we have to go to sleep. I also love this shirt because I love him and he IS my Trophy Husband so what better way to show that off then to have a memorial Tshirt and show it off when he wears it. (Wink) I put this shirt through the ringer! He wears it pretty much every weekend since he got it and I do his laundry every weekend so it has been through the wash and dryer about 100 times! He has had other printed shirts that after 1 was the graphics started peeling. This shirt has kept up with appearance's like a champ. Even through the harsh heat of the dryer. If your Man loves graphic style T-shirts like my husband he would love the wide selection of the Men's Graphics Teez that BigTimeTeez.com provide!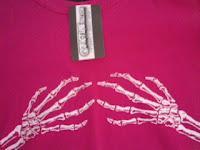 I love.. no I really mean LOVE my (Hot Pink) Skeleton Groping Hands T-Shirt from BigTimeTeez.com! I have been wanting a Tshirt like this for .. Year's.. But I never could find one like this every place that I looked. Even the custom print Tshirt shop's don't or even wouldn't sell me one like this. (Bummer!) But thanks to BigTimeTeez.com I now have one that I can support! I don't know what it is about this print but it cracks me up every time I see it. There's just something about skeleton hands groping my boob's that crack me up. There's also that gothic Zombie style T-Shirt side that I like to it also. I have not seen anyone else that has a shirt like this so it also has that unique twist that I like. It's bold hot pink color has a nice concept. It's color is bright but not over bearing like other hot pink shirts that I own or have seen. I have gotten a ton of compliments from both guys and girl while wearing this shirt. They always ask me where I bought it and .. I tell them .. BigTimeTeez.com and they get excited and say they have to order shirts from them. They have a wide selection of Funny Tees for female T-shirts to chose from. I had a hard time deciding on what I wanted to review since there was so many cute ones!..Check out BigTimeTeez.com and tell me what you order! I also put this shirt through the ringer since It's almost the only shirt I wear now. I have a feeling I'm going to wear it out and I will have to order 10 more. The graphics are amazing. Even through the wash and dryer the graphic print didn't budge. Shread. or peel. It's like I never even washed it.
 
 
 
♥ You can find BigTimeTeez website : Here
 
♥ You can find BigTimeTeez  Facebook : Here
 
♥ You can find BigTimeTeez Twitter : Here
 
 
♥ I received no monetary compensation for this review.  I was provided a t-shirt to try and give my honest opinion(s).