Shares in the Market Vectors Russia ETF (Ticker: RSX) are higher by less than 1.0% on Thursday, rebounding somewhat after yesterday's dropping to a six-month low of $25.16.  The price of the underlying, currently up 0.65% on the session at $25.41 as of 11:30 a.m. EST, has lost more than 7.0% of its value since this time last week and more than 15% since this time last year.
A large trade in RSX put options this morning suggests one big options market participant may be bracing for shares in the ETF to extend losses during the next couple of months. The single-largest trade in RSX options this morning was the purchase of a block of 22,000 of the Mar $23 strike puts at a premium of $0.30 each.
Those March expiration puts had not traded until today; open interest was zero contracts heading into Thursday's session. The IB Probability Lab illustrates the cumulative probability of just above a one-in-eight likelihood of the shares plunging below the strike price within the next six weeks — illustrating the cumulative probability of a below-$23.00 settlement price by March to be 15.05%. 
Chart – IB Probability Lab shows likelihood of RSX trading below $23.00 by March expiration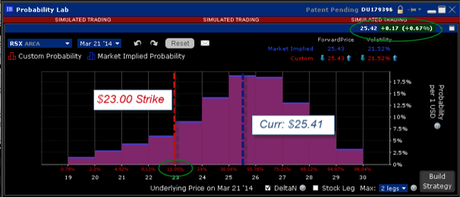 The puts start making money if shares in the ETF decline another 10.5% from the current price to trade below the effective breakeven point on the downside at $22.70 by March expiration. Shares in the ETF last traded below $22.70 back in August of 2009.

This article will become free after 48 hours (see below for free content). To read the rest of this article now, along with Phil's live intra-day comments, live trading ideas, Phil's market calls, additional member comments, and other members-only features - Subscribe to Phil's Stock World by clicking here.