There are many reasons to love
Big Hero 6
, the latest Disney/Marvel animated offering, but the two most obvious ones are the appealing duo of boy genius Hiro and his amazing robot Baymax.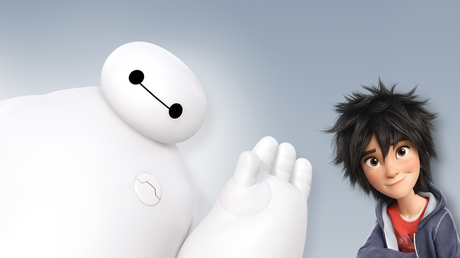 Baymax and Hiro
The movie is (
very loosely
) based on a Marvel Comic of the same name. In typical Disney fashion, young Hiro (Ryan Potter) must deal with the tragic death of a loved one very early in the film. The melodramatic deck is also stacked, as 14-year-old Hiro  and and his older brother Tadashi (Daniel Henney) are already orphans when we meet them, and living with their eccentric but loving Aunt Cass (Maya Rudolph) in the futuristic hybridized city of San Fransokyo.
Hiro is also surrounded by a lovable team of self-professed science geeks, Tadashi's friends GoGo Tomago (Jamie Chung), Wasabi (Damon Wayans, Jr.), Honey Lemon (Génesis Rodríguez), and Fred (T. J. Miller), who all attend the city's prestigious science and technology school, the San Fransokyo Institute of Technology. Tadashi wants Hiro to apply to the school, and he does, in spectacular fashion, with his invention of microbots, which can be controlled by the mind to take any shape or form. Hiro's microbots catch the interest of the head of the school, Professor Callaghan (James Cromwell), who offers him a place at the school, as well as Alistair Krei (Alan Tudyk), a wealthy owner of a robotics company, who wants to hire Hiro on the spot.
The action ramps up as Hiro meets Baymax (Scott Adsit), a very appealing healthcare/helper robot invented by Tadashi. With a few upgrades to Baymax, and Tadashi's friends on his side, the gang teams up to discover the identity of the mysterious masked figure who has stolen Hiro's microbots.  Hiro is no longer alone in his quest for the truth.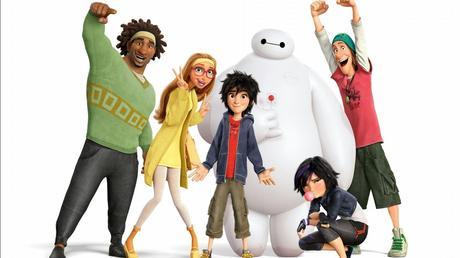 The team, L-R: Wasabi, Honey Lemon, Hiro, Baymax, GoGo, and Fred
Big Hero 6
has a big heart, but it is also great to look at. The mixture of anime and doll-like animation gives it a fresh look, while staying in the style of the day. San Fransokyo, with its soaring buildings and nearness to water suggests its two city inspirations, San Francisco and Tokyo, while becoming something altogether new and exciting. There are also visual and thematic nods to films 
Blade Runner, Scooby Doo
, and
Real Steel
.
Big Hero 6
also works as a superhero origins movie, as each of his friends use their tech wizardry to outfit themselves with special abilities.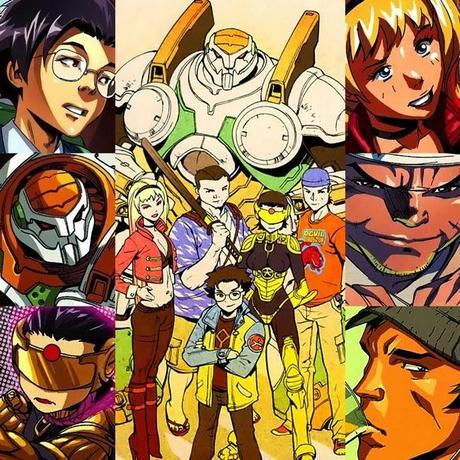 The original comic book characters
One of the most appealing aspects of the movie is its love of science, gadgets, and most importantly, school. Tadashi rescues his smart but bored little brother from some tough guys and life on the street and shows him where he and his ingenuity can flourish — at the San Fransokyo Institute of Technology. That burning desire for knowledge, matched with the sincere and loving heart — of a robot — Baymax — makes for a very winning film.