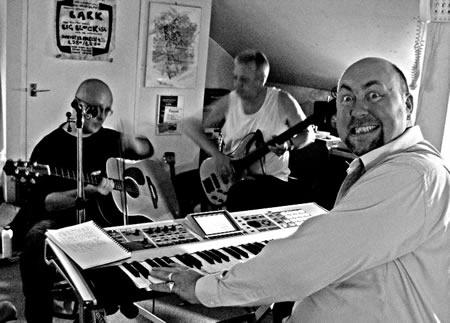 There once was a time that Manchester Madness ruled the world. Bits of it survive until this day, firmly underground, weird and with the typical Northern England attitude. You like it, and if you don't - well, fuck off.
Big Block 454 have been at it since the Eighties, coming up with tunes that could be descirbed as UK folk having a fight with vintage Krautrock. Remember when Genesis were still prog? This trio is a bit like that, telling stories without Hollywood endings.
Throw in a bit of the BBC Radiophonic Workshop found sounds approach and you get an idea what their latest album Bells & Proclamations sounds like. No problem digesting this if you are into Gong and The Residents. These guys are serious and fun.
Big Block 454:
Alex Stone: guitar, accordion, kantele, portable harmonium, serious vocals Colin Robinson: 6-string fretless bass (oh yes), corrupted vocals, shehnai, xaphoon, tablas, junk Mark Joell: keyboards, tumbi, shouting through cymbals, funny vocals, funny handshake

Bells & Proclamations is a self-released album. Buy it (pay-what-you-want) from the band's website.
Tracks:
Pyjamageddon
Blind Jack of Knaresborough
Yockenthwaite
Metal Trees
The Cloud Of Unknowing
Blind Jack's Unicycle
The Modern Architrave
Kirton In The Rain
Long Shore Drift
Rubber Road
Crossing the Bay
The Sun Unconquered
MP3: Big Block 454 - The Modern Architrave
MP3: Big Block 454 - Crossing the Bay
MP3: Big Block 454 - Rubber Road
» facebook.com/BigBlock454.music
» bigblock454.bandcamp.com