From Niagra Oast House Brewers located in Niagra on the Lake in Ontario comes their "Biere De Garde" part of their cork and cage Farmhouse Ale Collection. The beer pours a deep cloudy reddish colour with a light brown head. The aroma consists of mild roasted malts, toffee, spices, yeast and some dark fruits. The flavour is of roasted malts, toffee and burnt caramel, dark fruits, spices, yeast and a possible hint of bubble gum in the finish but I could be wrong. The alcohol content comes in at 7% and is quite carbonated and also has a dry finish. This is my first ever exposure to this brewery and I would have to say that it was a great introduction. Its not a style I know much about but I fully enjoyed this bottle.
Commercial Description: This bottle conditioned farmhouse ale was brewed in the Northern French tradition using the freshest ingredients and Belgian yeasts. The Biere De Garde is brewed to celebrate harvest and quench the thirst of the seasonal workers that make it happen each year.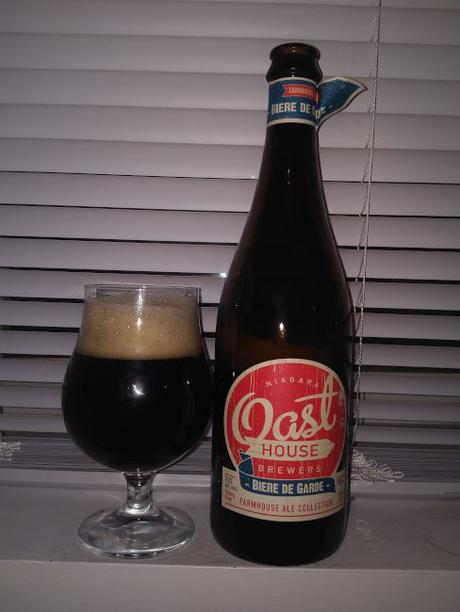 About Mike
I am an avid outdoors man and hobby photographer who loves to spend as much time as possible exploring the beautiful backcountry of the Province of British Columbia and everywhere else! When not exploring nature though I am exploring Craft and Micro Brew beer locally and from around the world. If you love beer like I do please come on a journey for your taste buds. Who knows you just might find your next favorite beer!
This entry was posted in Bière de Guarde and tagged beer, biere de garde, bubble gum, canada, craft beer, curnt caramel, dark fruit, dark fruits, niagra oast house brewers, niagra on the lake, ontario, roasted malt, roasted malts, spice, spices, toffee, yeast. Bookmark the permalink.