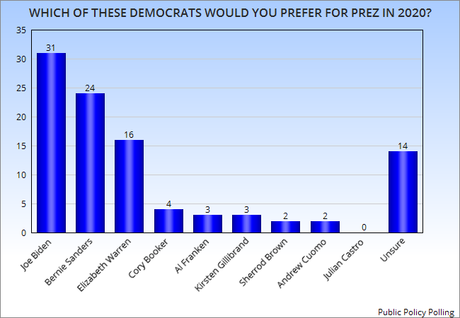 Most of you will probably think it's far to early to even be asking this question. I disagree. With Trump about to be sworn in as president, it can never be too early to start thinking about who can get him out of the White House in 2020. One Trump term will be disastrous for working Americans, and a second term is unthinkable.
Out of the top Democrats, Joe Biden leads the field with 31%, followed by Elizabeth Warren with 16%. The other Democrats are all currently in low single-digits.
Bernie Sanders is in second place with 24% (seven points behind Biden), but he still refuses to even call himself a Democrat -- and personally, I don't think anyone ashamed to proudly wear the Democratic label should run. If he runs as a Democrat in the 2018 Vermont Senate race, I could change my mind -- but I doubt he'll do that.
The chart above is from a recent survey by Public Policy Polling -- done on December 6th and 7th of a random national sample of 400 Democratic primary voters, and has a margin of error of 4.9 points.