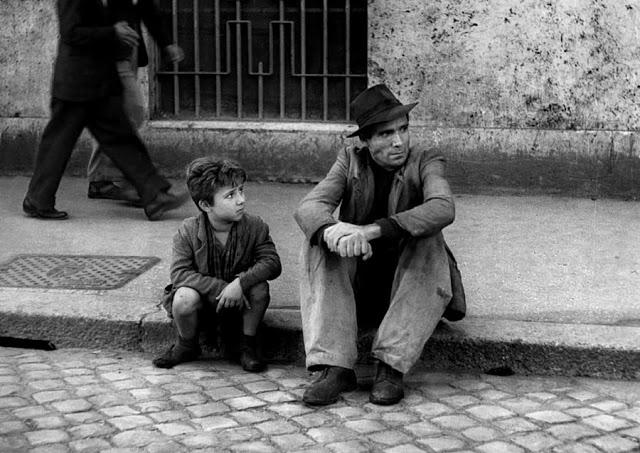 Those of you following me on Twitter would probably know that I have been dreading this moment. As much as I love Bicycle Thieves(1948) and wanted to write about it, I have been trying to avoid re-watching it for as much as I can. The thing is, it is one of those movies that takes me into a state I don't want to get into, especially on the weekdays - this makes me hate the whole world around us. I mean, there is this normal, poor and honest guy just trying to do an honest day's work, trying to be a good father. If no one can help him in the cause, why can't the world at least let him be? Why do they have to put obstacles in his path and taste him? and make him prove himself? Why? Ok...Ok. Deep breath. I think I am running too far ahead of myself. Let's get back on line and start at the very beginning. So, the other option was Grave of the Fireflies(1988), which turns me into something even worse. I guess the time has come that I don't get the option. I just have to choose the blue pill and go with it. Dramatic much? I will try to keep my emotions in check. No promises though, some times they are bound to get better of you.
Based in Rome just after World War II, it concentrates on the grim realities of regular working Italian people and how even the mere survival has become a struggle. Antonio Ricci, played by Lamberto Maggiorani, is just another one of those regular guys looking for any type of work that can pay so that he can feed his wife and kid. One day, he gets lucky when he gets picked for putting up posters around town but foreman needs for him to own a bicycle. Antonio assures him that he will arrange something by next day, pawns pretty much everything he can to buy himself a bicycle and happily, joins in on the first day of work. It may not pay a whole lot but now, at least
he has some income and even a bicycle. Antonio starts this new day with his son Bruno, played rather brilliantly by Enzo Staiola, full of hope of better future. However everything comes crashing down on him when someone steals his bicycle on the very first day. This bicycle is basically their lifeline. Without his bicycle, he won't have a job for another day and without his job, he won't be able to pay his debt. In hard times such as this, there is very real possibility that he wouldn't even be able to put food on their table. So for the rest of the movie, we follow this father-son pair knocking on every door they can to get their bicycle back. And quite frankly by the end of it, it broke my heart so much that I was just sitting in my chair, holding head in my hands for a long time. At the heart of all this is his relationship with his son. With Bruno around all the time, Anotonio is constantly aware of the example he is setting for his son and hence makes those final moments that much more effective, much more heartbreaking.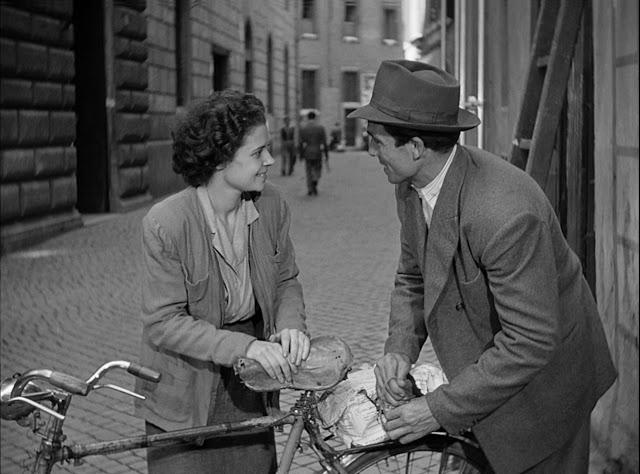 Vittorio De Sica who directed this movie was probably one of the most well known names related to neo-realism. He does a lot of things right in this movie to make it such a landmark picture, a true masterpiece in every sense of the word. Bicycle Thieves portrays a very vivid picture of how hard life must have been in the years right after war. Even in the small things like bunch of people waiting for announcement of who got the job, he paints the picture of poverty and desperation that must have swept through the whole country. As per the neo-realism guidelines, all the cast members chosen were unprofessional actors but they hit the ball out of the park, especially Maggiorani and Straiola. However the biggest success of the movie is in its simplicity. It's a very simple, straight forward story made even more effective by its brutal honesty. In fact it is this honesty or more correctly, its brutality is what makes it so much memorable. From the start, you see Antonio as this poor but honest, hardworking and likeable guy trying to earn a living.
Within first few minutes,

I was genuinely happy for him that he found some means of livelihood and was really concerned when his bicycle gets stolen right away. He seems like such a nice guy that I didn't want to get things any worse for him but the whole time conditions never stop getting any worse. By the time you reach the ending where all that is remaining is empty shell of this nice guy and his surroundings give him one final push that will make it impossible for him to redeem himself, I was literally praying for something good, something that will give us that old, simple guy back,
to happen to him. But Mr. De Sica had some other plans, I guess.
The first time I saw Bicycle Thieves was about one and half years ago and that was pretty much my introduction to Italian cinema and the theme of neo-realism that was so much prevalent at that time in the Italian industry. Later on this movement even crossed its borders to influence, among many, many other things, Indian Cinema and more specifically Parallel Cinema movement in it which is also referred to as Indian New Wave. Satyajit Ray specifically sights it as one of the two most important influences on Pather Panchali(1955), first of his Apu trilogy movies and a personal favorite. Staying true to the concepts of new-realism which mainly feature stories about the hardships in the day-to-day lives of working class and lower middle class in the post World War II Italy, it was also filmed mainly on location, employed non-professional actors and has a strong focus on Child actors. Even though the films like Shoeshine(1946) and Umberto D(1952) have always been in the contention, I have only seen two movies by De Sica. Other one being Two Women(1960) for which Sophia Lauren won an acting Oscar. Based on these two movies, I feel like De Sica never lets anything good to happen to any of his characters and the looks of either Shoeshine or Umberto D don't help the cause much either. I am not complaining, rather just an observation because I understand what he was aiming for in this movies and he achieves it beautifully.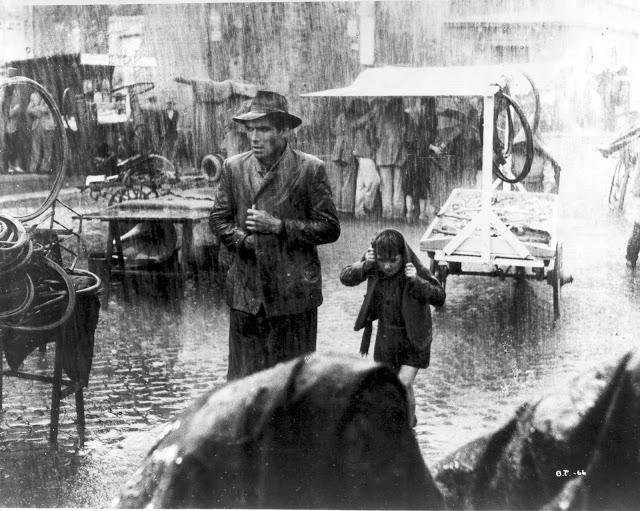 Arguably, Bicycle Thieves does have moments of humor which again come at the expense of this father-son pair. When Bruno falls in the mud and Antonio doesn't even realize it can be called one such moment. But the moment that I will remember the most doesn't come with such a silver lining, it actually comes at the height of his despair - when Antonio decides to take Bruno for lunch that he can not afford. It shows Antonio's inner conflict so powerfully that I was completely confused as to how to react to this situation. I had this uneasy smile on my face throughout the sequence. I strongly believe that is exactly the kind of reaction De Sica was hoping for and he succeeds time and again in getting it. If you haven't seen it yet, you are truly missing a gem of a movie.
Past Favorites:
Notorious(1946)
Rashomon(1950) 
City of God(2002)
12 Angry Men(1957)
Rating(out of 5):