Digital Worship Announces a New iPad App: BIBLE SHUFFLE!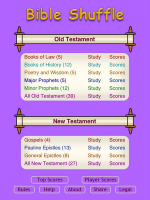 Menu for BIBLE SHUFFLE
I'd like to introduce you to BIBLE SHUFFLE, a Christian iPad app that the husband of the author of Colleen's Quest  recently developed and is now available at the App Store!  This educational app provides basic Bible drill practice, helping students learn to order the books of the Bible in a fun way.
BIBLE SHUFFLE allows players to start slow, ordering individual divisions of the Bible, such as the gospels (4 books) or books of law (5 books), but graduates as quickly as desired to ordering the entire Old and New Testaments.  Beginners can use the "Study" section to see the books in correct order for each division before they tackle the timed round.  And there is a "Hint" button players can tap which reveals the next book in order, in case they get stuck.  Using the hint button takes time, so they will soon drop this habit in order to beat the clock.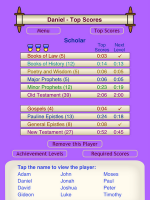 Student Score Sheet
BIBLE SHUFFLE captures the speed students order each division, and uses the times to allow them to advance through 5 levels:  Beginner, Student, Scholar, Expert and Champion.  They can see exactly how fast they need to be in order to achieve the next level -- and, trust me, those final levels are really challenging!
Homeschool or classroom teachers can check student scores to see how many divisions each student has completed and how their times are progressing.  Up to 12 student names and scores may be stored at a time on one copy of BIBLE SHUFFLE.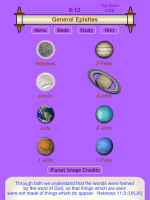 Example of One Division
T
h

e score times energize students' competitive natures as they try to get faster times than their friends, siblings or parents, "inadvertently" memorizing the books as they progress.
The graphics for this game are colorful, but simple.  They do not distract from the learning process.  This game could be played during class-time by students who have finished other work early, or as a Bible drill practice for an entire class (or family) at once.  Actually, anytime is a fun time to play this game!
BIBLE SHUFFLE rewards students with applause, encouraging words, and fireworks with the completion of each division.  They are awarded medals for each level achieved.  Bible verses adorn each page, reminding students of the glory and importance of God's Word.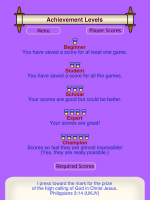 Levels for BIBLE SHUFFLE
The BIBLE SHUFFLE app is only $1.99 at the App Store.  If you have contacts with a Christian school who would like to use BIBLE SHUFFLE in the classroom, let them know that the Educational Pricing Program is reduced even further to $ .99 per copy.
If you don't have an iPad, but know someone who does, please forward this information to them! We'd LOVE to see BIBLE SHUFFLE go viral!!!
This post written and property of Homeschool Circus and can be found at: www.upatdawnreadytowork.blogspot.com . If you are reading this from a source other than www.upatdawnreadytowork.blogspot.com you are reading a scraped copy!