There are very few foods that I have actually missed since I moved to Brussels.  Between the huge variety of restaurants on offer and the British Shop, pretty much everything is covered (although thanks to my friend Becky, I am now craving a Wagon Wheel).
So, when I heard about a Fish and Chip restaurant and takeaway, near the Grand Place, I was looking forward to the typical battered cod and chips with curry sauce.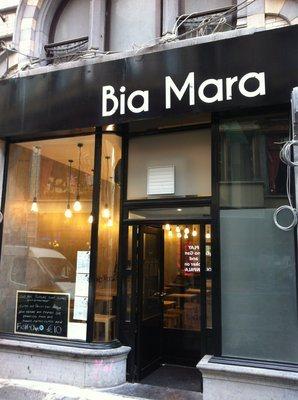 I actually couldn't have been more wrong or any more delighted with what I found.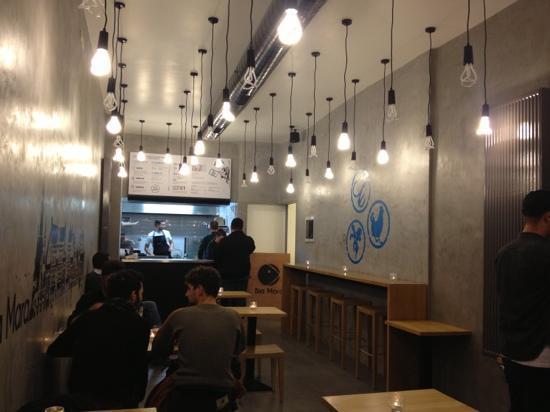 Bia Mara is not a traditional British Fish and Chip shop.  Firstly, it's Irish. Secondly, these were the most AMAZING fish and chips I have ever tasted.
The menu is simple – with different fish and sides on offer – as well as a vegetarian option and daily specials.  Our drinks arrived quickly – Beer for Boon and a glass of peche for me.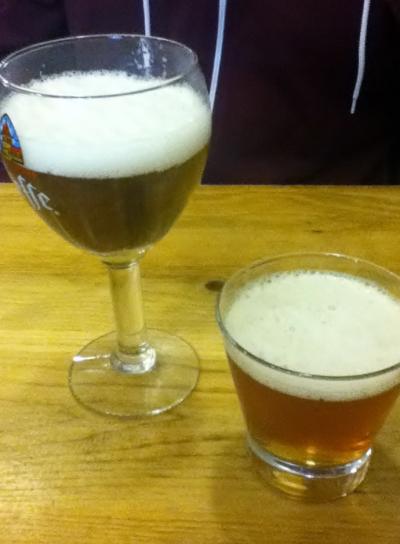 Boon and I both opted for the Classic, which is fresh haddock, seasoned chips and home-made tartar sauce – then Boon went for the mushy peas and I opted for the red slaw.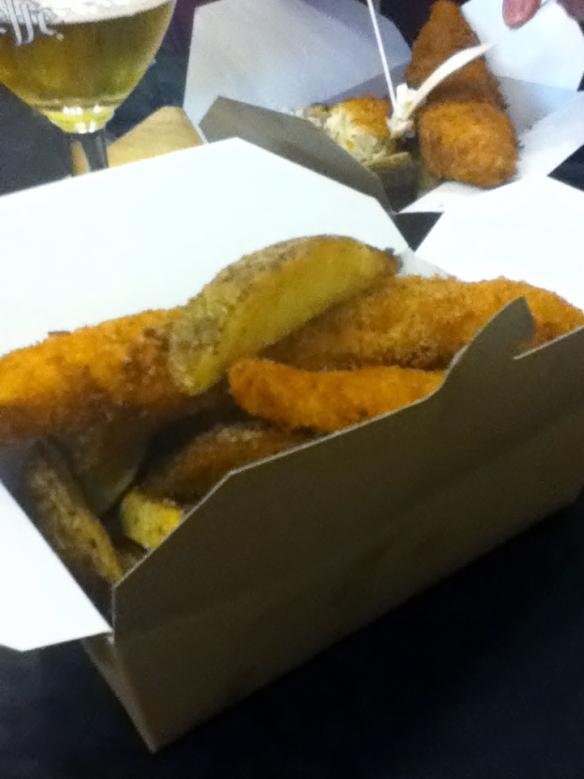 Our food arrived in a cute cardboard container, with a wooden knife and fork. With our sides, strangely enough on the side…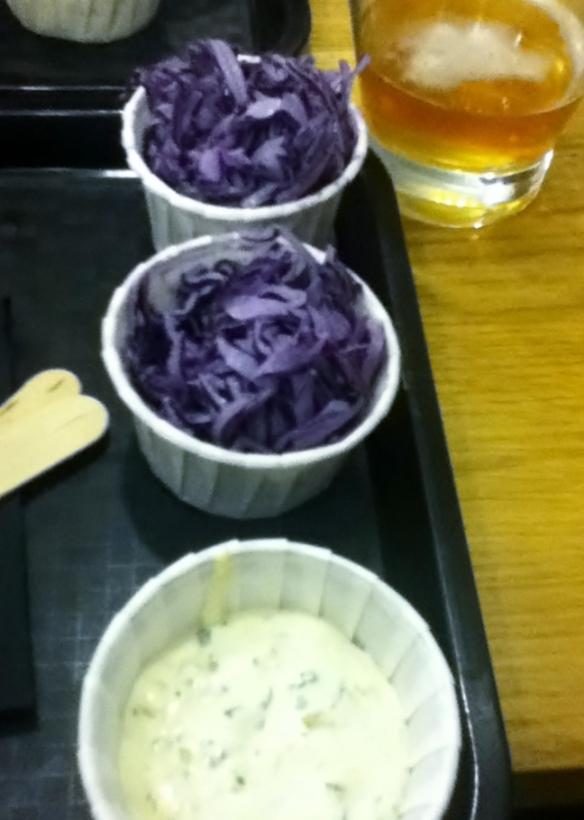 Two pots of red slaw, delicious – it was very fresh and covered with the perfect amount of dressing, so it tasted very healthy.  The tartar sauce had a great tangy lime flavour, that was really refreshing and complimented the fish perfectly.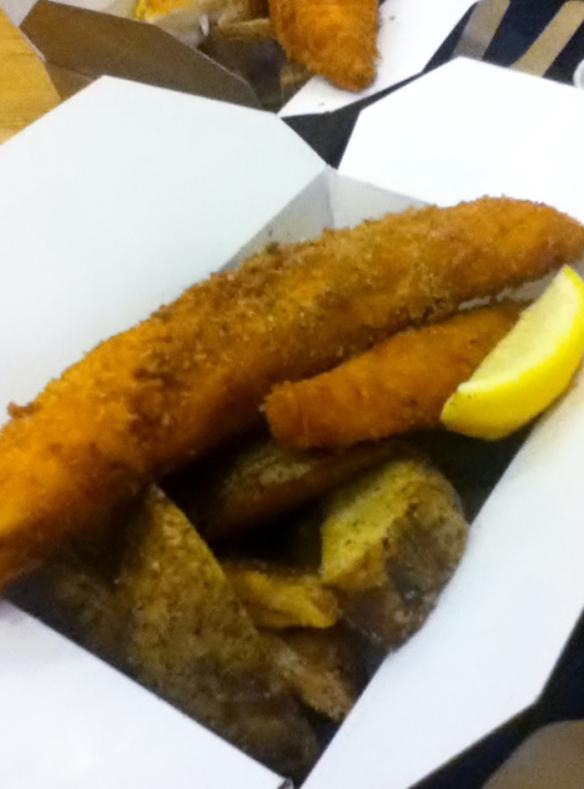 All the fish they serve at Bia Mara is sustainable, my haddock was breaded (rather than battered) but still crispy on the outside,  inside it was so soft and flaky it almost melts in your mouth.
Moving onto the chips… technically I don't think these fall into the chip category (which is a good thing, there are excellent frites everywhere in Brussels and it's great to have something different).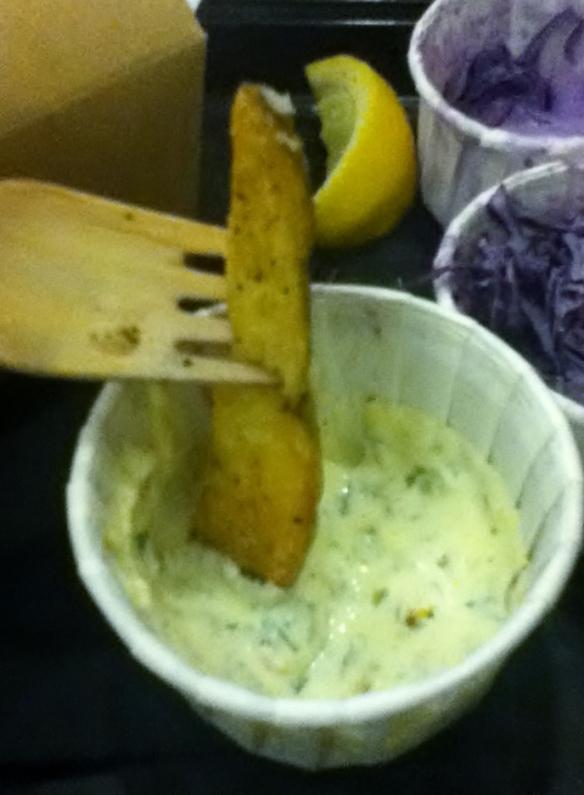 These are perfectly seasoned potato wedges,with the a slightly crunchy skin (hooray for fibre) and inside, the potato was so soft and fluffy and delicious it was almost creamy.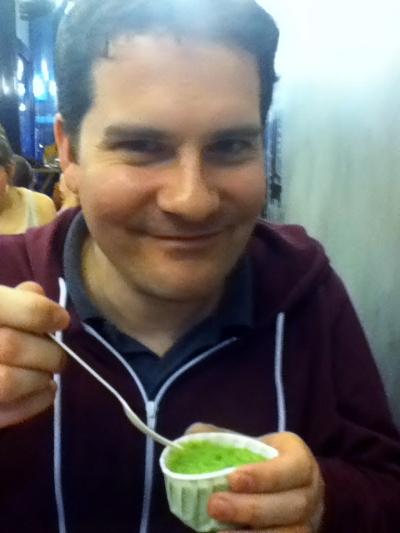 The only thing that got one thumb's up rather two, was the mushy peas.  Boon's love of squished peas, is ridiculous (I am not a fan, so didn't try them), but he said that they were a little too minted (and therefore a bit sweet) for his taste.
So, I did a lot of this…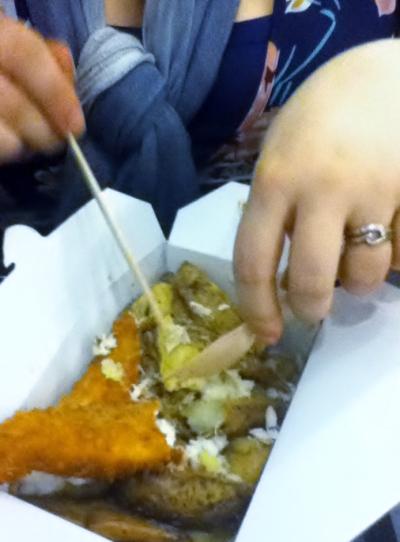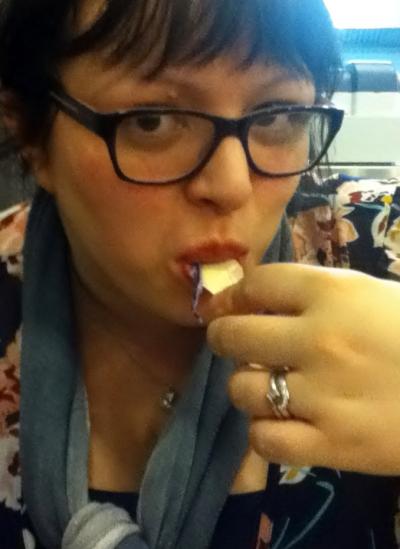 (blimey, I need to get some more sleep) and this was all that was left…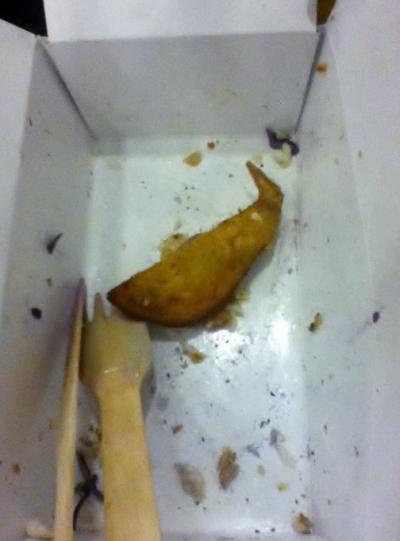 We left with our belly's full of delicious food and beer for around €30, which is excellent value – especially for Brussels and I know we will be back, I imagine rather frequently, especially as I hear there are opening a terrace for Summer.
Bia Mara is on Facebook or you can find them at:
Rue du Marché aux Poulets 41, Bruxelles, 1000. Cash Only.