When I heard about this place called Bhongir, my first reaction was how come is it so close to Hyderabad and hardly anyone has heard of it.This place Bhongir is only 50 kms from Hyderabad. And since me being a history lover when i heard about the fort on top of a monolithic rock the idea interested me and I decided to visit the place. And this is not only for history lovers the people who like trekking and rock climbing can have a great time here. The picture below is the first view I got of the fort and the rock.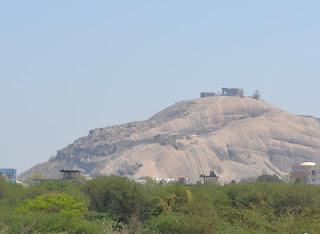 The entry ticket is only 3 rupees for indians. And then when you enter starts the first phase of climbing which is pretty hard as there are no steps in the beginning.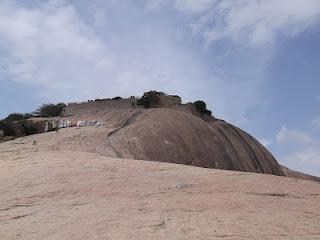 Then the stairs start which are actually even more harder to climb than the slippery rock.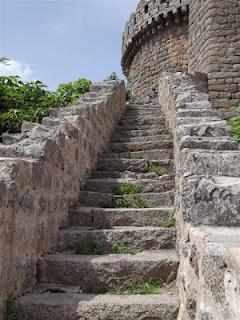 Here is some History about the place. Bhongir fort was built by the Chalukya ruler (Tribhuvanamalla Vikramaditya) in the 12th century. The fort showcases extraordinary architecture and geometric excellence. At the foot of the fortified rocks stands the town of Bhongir, it has a unique egg-shaped construction with two entry points protected by huge rocks, so the fort was considered practically impregnable by invading armies. A moat that encircles the fort, a vast underground chamber, trap doors, an armoury, stables, ponds, wells etc., make for fascinating viewing. The Bala Hisar or citadel on the top of the hill gives a bird's eye view of the neighbouring area. The fort is associated with the rule of the heroic queen Rudra Amma Devi and her grandson Pratapa Rudra. Later it was captured and renovated by the Qutb Shahi Kings.
There existed a mosque within the fort on the hill. Of that mosque only a few signs are remaining as was many other structures of the fort. Here are some more photos from the fort.