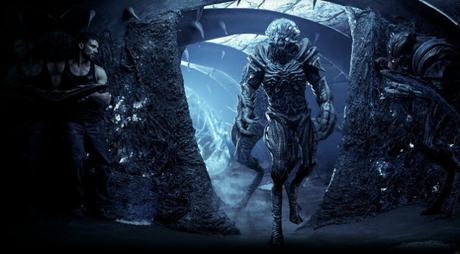 Review: Despite being critically lambasted, The Brothers Strause' 2010 alien invasion flick, Skyline, is a legit B-movie success-grossing USD 79 million from USD 20 million budgets-locking the possibility of a sequel, hence Beyond Skyline. Helmed by the first film's writer and producer, Liam O'Donnell, this sequel (or spin-off) seems to have learned a lot from the predecessor's a-tad-too-serious execution of the campy material.
Beyond Skyline doesn't bother to take things seriously. The result is an anachronistic B-movie feast which offers tons of fun if not weighed down by its gawkish, untidy execution and convoluted plot. The best thing about it: it can actually bring something even Star Wars failed to do-combining The Raid-esque action with alien invasion tropes.
Started off on the same timeline as the original Skyline, Beyond follows Mark (Frank Grillo), an LAPD detective, during the 'rapture.' Mark was picking up his son, Trent (Jonny Weston), who got arrested for small felony, when the alien ship arrived and abducted people. The whole setup is basically similar in one way and another to the original setup; but, once the alien ship started abducting human, Beyond's plot begins to converge with the original Skyline and, at the same time, begins to bring the film forward to its cranial fun.
You might find it familiar blend of Independence Day and the campiest of Alien: Resurrection; but, that doesn't mean Beyond has lost its B-movie 'charm.' The plot is as convoluted as the original. Loose threads, cliché-ridden dialogues, and tons of absurdity cramp the story. Yet, it wasn't until the moment when the alien ship crashed onto an anachronistic Southeast Asian country (filmed in Batam & Yogyakarta, Indonesia) that the film begins to reach its craziest part. Seemingly, alien invasion tropes aren't enough, Beyond injects some nostalgic 'Nam-esque and drug-dealing tropes into the plot.
The tropical setting gives way for Beyond to bring along The Raid stars, Iko Uwais and Yayan Ruhian, to the pitch. This is interesting because Frank Grillo has always been attached to The Raid remake idea ever since its conception; now, he teams up with the man he's envisioned to 'reimagine.' More interestingly, Uwais and Ruhian's involvement really brings the campiness of Skyline franchise to the whole new level. What about fighting aliens with Indonesian martial arts as demonstrated in The Raid? It's crazy, frenetic, and groundbreaking. Go figure and tell that to Disney and their Kanjiklub.
Indeed, Beyond Skyline revises what gone wrong with Skyline. Yet, calling it a far superior sequel isn't exactly right.
Beyond Skyline (2017)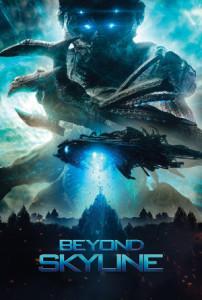 IMDb
Action, Adventure, Sci-Fi Written & Directed by: Liam O'Donnell Starred by: Frank Grillo, Bojana Novakovic, Iko Uwais Runtime: 105 mins Rated R