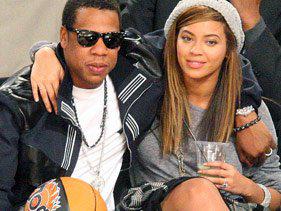 Beyonce and Jay-Z: Proud parents.
It's Baby-oncé! The "Single Ladies" singer has given birth to a baby girl, her first child with hip-hop mogul husband, Jay-Z, also known as Shawn Carter. Blue Ivy Carter was born at New York City's Lenox Hill Hospital on Saturday night.
The couple are famously insistent on protecting their privacy, but interest in their personal life remains intense: Beyoncé's announcement of her pregnancy at the MTV Video Music Awards garnered the most tweets per second of 2011.
Love On Top. The birth of Beyoncé's first child has provoked a flood of celebrity tweets, reported The New York Daily News, with Rihanna, Sean "Diddy" Combs and Gwyneth Paltrow taking to the microblogging site to send their congratulations. Indeed, it was Hollywood actress Paltrow who confirmed the baby's name – Blue Ivy, rather than Ivy Blue.
"Welcome to the world Blue! We love you already," said Gwyneth Paltrow on Twitter.
Check On It. Rumours are swirling as to the reasoning behind "Blue Ivy", reported The Telegraph:  "A popular theory is Blue was chosen to signify producer Jay-Z's Blueprint albums, while some believe Ivy was chosen because it represents the Roman numeral for four (IV), which is Beyoncé's favorite number."
"Welcome to the world princess Carter! Love Aunty Rih," tweeted Rihanna.
Bills, Bills, Bills. But not everyone's celebrating the arrival of the latest celebrity offspring. "Neil Coulson, 38, of Brooklyn said the stress of his wife delivering two premature girls was tripled when Beyoncé's bodyguards repeatedly barred him from the sixth-floor neonatal intensive care unit," reported The Daily Mail. According to The Mail, the superstar couple apparently spent $1.3 million to seal off a wing of New York's Lenox Hill hospital, and new father Coulson alleged their security detail treated the hospital as "an exclusive nightclub".
Will Beyoncé now be inspired to follow up 2003 single 'Baby Boy' with 'Baby Girl'? Watch this space.