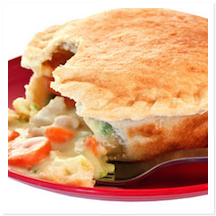 If you're like me, it's hard to know exactly what to do when a friend is grieving deeply. I've tried sending flowers, even an occasional chicken pie. Is it "starve a fever, feed a cold? or the other way around?" After a funeral, especially here in the South- the answer is to feed the family…whether they are hungry or not!
Recently I've heard some creative ideas that will far outlast a chicken pie; and can actually make a difference as you remember the person you're missing. Here are my favorite three:
* From social media – my friend, Chris wanted his children to know more about their grand dad (Chris's dad- Mike). Chris posted a request on his Facebook page asking people to help him by sharing a memorable Mike-story. The outpouring of touching and funny stories was overwhelming. People talked about how their lives had been deeply impacted by Mike's love for life and generous character. I never got to meet Mike- but am certain from knowing his son, Chris and the Facebook tributes, Mike was one phenomenal dad and friend.
* Pastor Rick Warren shared a heartfelt request on Twitter, following the shocking death of their beloved son, Matthew. He asked anyone who had been touched by Matthews life to take a moment and send a photo, or write out a memory and pass it along via mail or email to the Warren family. I love this idea, straight from a loving dad's heart.
*Following a long courageous battle with Alzheimer's- my friend Anna recently lost her mom. A few weeks after the funeral, a lifelong family friend suggested, "Why don't we get together for lunch with some of your mom's childhood friends? We would love to share stories with you about growing up with her." Such a priceless gift to hear from people who had known Anna's mom forever.
How about you? Is there someone who could help you remember the person you are missing? How cool would it be to keep their treasured memories in a scrapbook or special box. Consider making it part of your celebration this holiday season. A favorite part of my family's Thanksgiving dinner is sharing funny "Beazy stories" about my mom!
Do you have awesome ways you keep memories fresh? Please share them here! Sorry about the irresistible photo.
Updated: