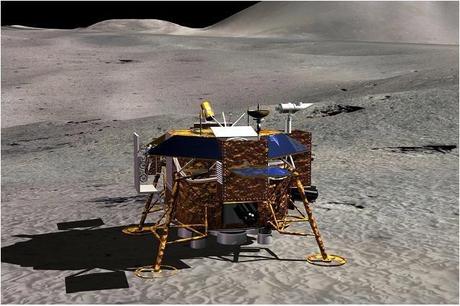 While NASA is making plans to send a man to Mars, China is finally trying to catch up and step on the Moon. The unmanned moon-lander named "Chang'e-3″ is being prepped to launch by the end of this year to mark China's first lunar landing. This will be their first step to send a man to the moon.
According to BBC, this rover has been named after a woman who lives in a palace on the moon as told in Chinese legend. In addition to meeting with this so-called mystery woman, the probe will use "radio-controlled rover to transmit images and dig into the moon's surface to test samples."
After successfully sending an astronaut into space, China is now confident they can achieve this goal and mark their name in space history as the third country to step on the moon. The spacecraft is planned to launch from Xichang Satellite Launch Center in southwest China. "After it reaches orbit around the moon, its lander will fly down to the moon's surface to a targeted landing site or Sinus Iridium, or the Bay of Rainbows. Then, the lander will deploy a rover to explore the lunar landscape," as stated on Space.com.

(All the images, trademarks, logo's shown on this post are the property of their respective owners)
Roshan Jerad Perera