INTERVIEW
What is something unique/quirky about you?
A weird thing about me, well there's  a few. But I love anything unexplained. I love all the conspiracy theories, and follow all the blogs and watch unending videos. I love the monsters. Guess that's why I love writing paranormal romance. I also have never outgrown playing. I usually hang around kids so people don't think I'm odd, but part of writing is having a great imagination, something I've never lost. Wanna play?
Tell us something really interesting that's happened to you!
One the reasons I wanted to write this book was because of something that happened to me when I was in college. I went to Utah State University, and worked at the local paper at night. I was out bundle dropping (that's where you drop all the papers that those kids need to do their paper routes) , which took me from one end of Cache Valley into Idaho. So it was about 3 am, and I'm out unloading papers, when I see this search light combing the neighborhood. At first I thought it was a helicopter, but then noticed there was no noise. The light moved back and forth for a few minutes and I just stared. Then the light slowly went up, gathered around a disc shaped object. I couldn't believe my eyes. Then the thing streaked away faster than any plane. I know a lot about planes living next to an airforce base and having a dad that worked extensively with the jets. I couldn't explain it. 
What can we expect from you in the future?
I'm working with the kids on book two of this series that will be title: Taken. They are excited to do another installment. Betrayed is also out on audiobook, and I love this narrator. I'm also continuing my Keeper series with Keeper of the Cauldron which is slated to be out next spring sometime. I also have another book in the works that will explore some of the history behind the Mormon Pioneers.
Do you have any "side stories" about the characters?
I do have some character side stories, but I save those for my died-in-the-wool fans. They get little novellas just for being so cool. They have bought everything I've written and I like to give something that makes them special. 
Where were you born/grew up at?
I was born in New Mexico but grew up in Utah.
If you knew you'd die tomorrow, how would you spend your last day?
If I were to die tomorrow, I'd spend my last day doing something fun with my family.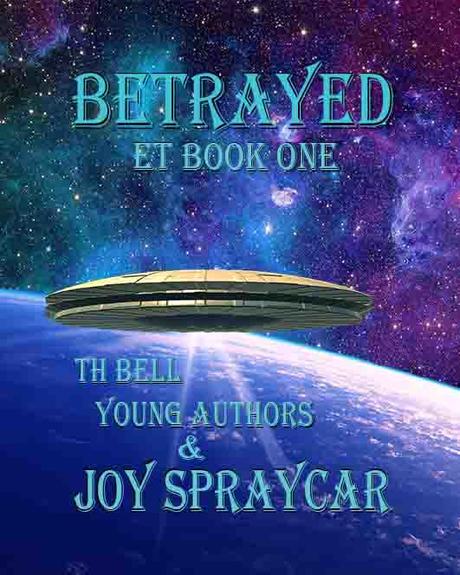 Betrayed
ET Book One
by Joy Spraycar
Genre: YA SciFi
If Valcor Sentorum can bring back more girls than his predecessor, General Labaam, he'll have set himself up to become the next President of Dactilt. That'll put an end to those meddling Ventician women for good! Of course, only if no one finds out where he's been or what he's found. But once he lands on Earth, someone changes all his aspirations.
Loreen Baccarin would give anything to go back and undo the last year and a half. Never trust a man, especially not a Dactiltian! Now she's been banished from Venticia until she can redeem herself, spending the last eight months stuck on Earth and waiting for a Dactiltian ship to land. When one does, all the hatred she'd been holding inside boils to the surface, and she's determined to unleash it on the poor sap who's arrived outside of town. 
But when she reaches the ship, she comes face to face with the person she thought she'd never see again…
Her husband!
Goodreads
*
Amazon

The hood figure waved its hand, and the coverings floated to the ground.
The stand – dark and gloomy – enticed Valcor.
Yes, this feels right
. Just what he'd hoped for.
Ratty black drapes hung from the ceiling. A tall cabinet filled with bottles of colored liquids stood in the corner. Tables were piled with old books in odd colors. Some looked like reptile skin while others had fur. A couple shimmered like the evil eye Valcor wore on his chest.
In the back, shelves lined with jars drew his attention. Pickled eyes. Brains. What was a coranthination?
Small trinkets were scattered amongst the mess, and a mug of wands sat on a shelf.
Something drew Valcor's gaze. Something half hidden by books and papers, but he couldn't look away. Could it be?
"Is that a…a flute?" He stepped closer.
A bony hand stopped his progress, and the hood shook back and forth.
"I can pay."
Goodreads
*
Amazon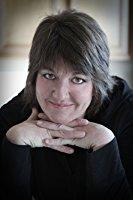 Joy Spraycar lives in Utah at the base of the Rocky Mountains. She has always had a vivid imagination and told stories, not always to the amusement of those around her. Since she was young, she enjoyed bringing stories to life and sharing them with others. 
However, her decided career lead her down many paths before finally setting her back where she began, putting pen to paper.She enjoys writing about life the way she wishes it was, men who aren't afraid to show their feelings (What girl doesn't want that?) and romance in many different settings. She also loves her characters to have adventures, and face peril. She hopes that you enjoy her Young Adult and New Adult Romances.
Website
*
Facebook
*
Twitter
*
Instagram
*
Pinterest
*
Amazon
*
Goodreads

Follow the tour HERE

for exclusive excerpts, guest posts and a giveaway!
a Rafflecopter giveaway