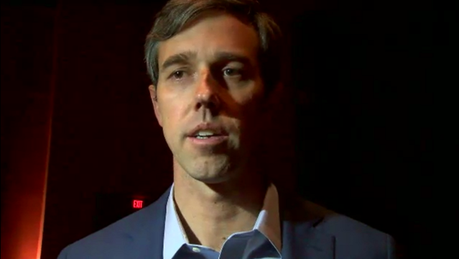 (Photo of Beto O'Rourke was found at website of KVIA News.)
The United States averages more than one school shooting every week and one mass shooting every day. It also has over 30,000 gun deaths every year. No other developed nation has anywhere near this level of gun violence. Why does the United States? It is because too many in our Congress have been bought by the gun lobby.
One of those who owes the gun lobby is Senator Ted Cruz of Texas. He has received millions from gun rights groups. In 2016 alone, he received $360,727 ($77,900 from the NRA and the rest from other gun groups). He has made it clear that he opposes all new gun laws, including those supported by a substantial majority of Americans.
Fortunately, Texans have an alternative this year. Democrat Beto O'Rourke has taken no money from the NRA or other gun groups -- OR ANY OTHER PAC's. And he supports common sense and constitutional legislation to stem the epidemic of gun violence in this country. The following is what O'Rourke had to say in response to the latest school shooting in Santa Fe, Texas:


My thoughts are with the community of Santa Fe. I'm thinking of the students, teachers, administrators, parents, and law enforcement. I'm deeply sorry that they are experiencing this.

I'm sorry that there are parents, brothers, and sisters who are grieving, who won't see their children and siblings at the next family dinner or baseball game. I'm sorry that there are teachers everywhere worrying about whether their classroom will be next instead of solely focusing on teaching those kids. I'm sorry that some of the students at Santa Fe weren't surprised that this happened because they expected it at some point. I'm sorry that more people have been killed at our schools this year than have been killed while serving in our military.

Either we accept this, and continue to be sorry, and prayerful and thoughtful. Or we act. That's it.

There are 535 members of Congress. Who represent 320 million people. All of us. Each member responsible for representing the interests of this country, of people, of human beings, of kids. Not responsible for PACs or lobbies, corporations or special interests. Not responsible for the next election.

Remembering that, we can meet silence with action. Tragedy with common purpose. The disagreements with compromise and consensus that allow us to do better -- not perfect, not your ideal, not my ideal, but better than what we have today. Shouldn't be too much to ask for the kids who died today, for the kids too scared to go to school on Monday, should it?

What if we required universal background checks to ensure that firearms only get into the hands of those won't harm themselves or someone else. Close all loopholes and exceptions. Every single gun purchase has a background check.

We can stop the new sale of assault weapons and high-capacity magazines to ensure that firearms designed to kill as effectively and efficiently as possible on the battlefield aren't used in our schools, our streets, our churches, and our concerts.

We can give federal help to local school districts to improve on-campus safety. Local stakeholder solutions with assistance to make the necessary investments.

We can fully support federal research on gun violence so that we can better understand and address its root causes.

We can improve record sharing from the background check system, the ability for law enforcement to more effectively act on information that could help in the prevention of gun sales to those who shouldn't own them or stop those who do and pose a threat.

We can find a way to implement Extreme Risk Protective Order (ERPO) or Red Flag Laws. Successfully implementing these can stop shootings and might have a big impact on the suicides that make up 2/3 of our daily 96 gun deaths.

These are some ideas I've heard from my constituents in El Paso, from students at the town hall I held at Montwood High earlier this year, from those I've met along the road throughout the counties of Texas.

These ideas won't prevent every shooting, won't be perfect, aren't easy conversations to have. And there's no way that I would suggest I have all the answers. No one person does.

But any hesitation I have in stepping forward is overwhelmed by the justice demanded by the daily tragedy of gun violence. Any question on how to lead has been answered by gun violence survivors, young people, high school students who are already leading us (forcing us) towards the difficult, important conversation that this country owes them, owes all of us.

I want to use our proud history of gun ownership, gun rights, gun safety, and gun responsibility in Texas as a place from which to lead. I want to sit down with any person of any party in any place and at any time to figure out how we can make sure that this does not continue to happen.