First off. Thank you to everyone that 2 cents me yesterday. You have no idea how badly I needed you. I love so many of your ideas, and I'm currently writing up a list of to dos. I'm searching for ottoman fabric that will also be kid friendly, definitely painting the ceiling and pimping the closet doors, and the list goes on.  It is so hard to see your space objectively because it is so personal and you are constantly in it, but getting feedback through all your eyes has helped me tremendously.
THANK YOU!!! and a big smmooch xx. I will update you next  week on any progress.
Oh! And I got that rug at a yardsale! One man's trash...
Next up, I just have to share the best online issue ever.  The latest Adore Magazine, its serious decor porn and I'm spent. For anyone that hasn't seen it go here now. Visual Prozac people, visual Prozac.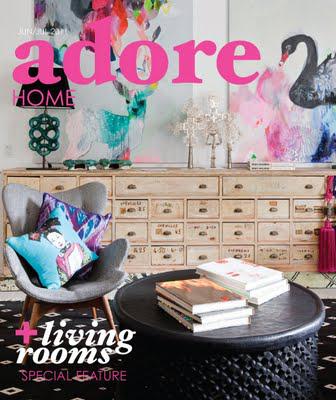 And to point out the obvious, Anna Spiro is a bleepity mix master genius with color. Nuff said.