We trust and use our devices blindly believing that our information is private and secure however the matter of fact is that every information that travels on the internet is unsafe and vulnerable to cyber threats. You never know, who, when, why someone is accessing your information!
The Best VPN Services
It just takes a few smart steps to ensure that your identity and your activities are private, secured and anonymous. Using a VPN service provider can help you go incognito over the net.
The best VPN service providers can maintain your online privacy and keeps your anonymity intact. If you travel through a country where a few websites are blocked, VPN service providers can unblock those websites or bypass censored content. You can safely download torrents or stream online videos with the help of a VPN.
You can also make use of a VPN service to change your geographical location to avail country-specific offers and codes available online. Here is a rundown to the best VPN service available in 2020.
ExpressVPN
Buy for: $12.95 a month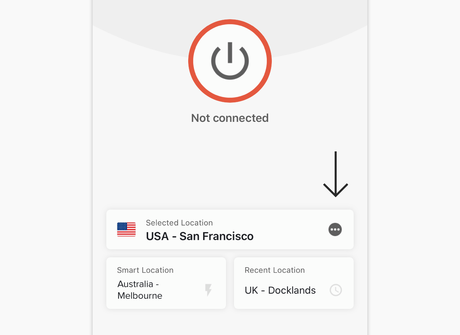 ExpressVPN Is again one of the oldest and trusted VPN service providers to secure your identity, data and online activity across the world. It's a strong VPN offering fastest speed across Windows, Mac, Android, iOS, Linux, routers and other devices. Unblock all popular Websites & Apps with 256-bit encryption available with 24/7 live chat support. It has a huge global network of fastest VPN servers with 160 locations in 94 countries.
ExpressVPN Features
Buy for: $11.95 a month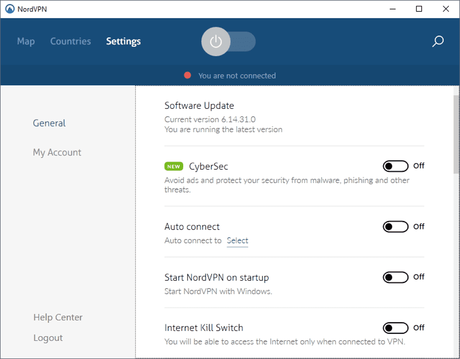 NordVPN is one of the most popular and secured VPN services that lets you feel safe online anywhere, anytime. It offers ultimate security with no-log policy to ensure that you are connected securely all the times over any hotspot or public Wi-Fi connection at the airport lounge, bar, restaurants and cafes. You can enjoy hassle-free connectivity for unlimited and uninterrupted streaming with over 5400 servers across 59 countries. What makes it more popular is the connectivity and compatibility with all popular platforms like Windows, macOS, Android, iOS or Linux as it connects up to 6 devices using a single account including your smart TVs and router.
NordVPN Features
Surfshark VPN
Buy for: $12.95 a month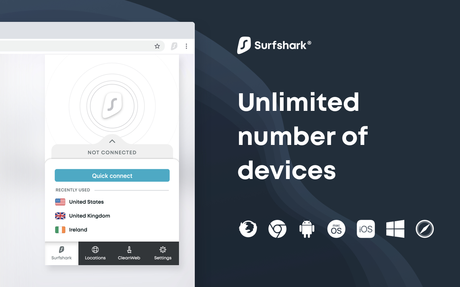 Surfshark VPN is an award-winning and secured VPN service that encrypts your online activity to stay private & protected. It's a hassle-free VPN service that works best with Windows, Android, macOS, Chrome, Smart TVs, Linux or iOS devices. Leave no footprints of your online activity with Surfshark VPN and stay safe from hacking, malware attacks, phishing attempts and identity theft issues. Surfshark has a built-in firewall system that performs ad-manipulation to secure your browsing habits, ISP tracking and price manipulation based on your location and interest.
Surfshark VPN Features
Buy for: $9.95 a month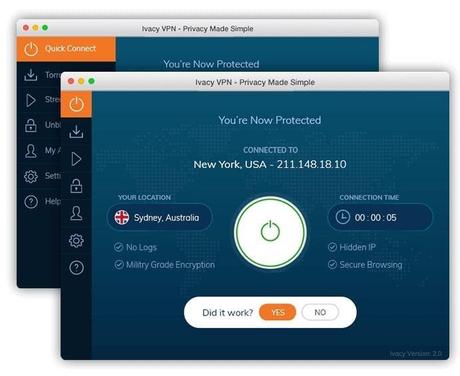 Ivacy VPN is one of the fastest VPN services available across the globe that offers Privacy, Adblocker, Bypass Geo-blocking, and Intelligent Routing to access blocked content from anywhere around the world. The VPN also features Internet Kill Switch, Split Tunnelling and multiple login support as an added advantage. The VPN has super deals and is available for the best value with all comparable features. It is compatible with Windows, macOS, Android, iOS or Linux and can protect up to five devices at a time.
Ivacy VPN Features
Buy for: $11.00 a month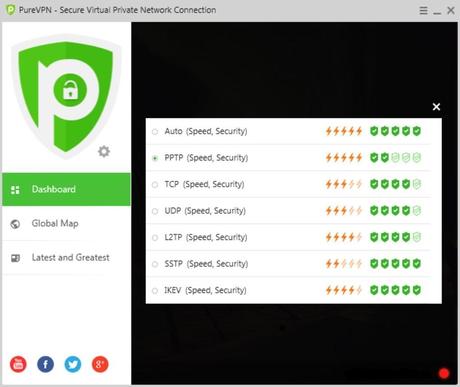 Connect to a highspeed VPN from the trusted VPN leaders worldwide with PureVPN. PureVPN allows you to connect with over 2000+ dedicated VPN servers across 140+ countries. It switches between more than 3 lakh IP addresses to keep your anonymity intact. Access blocked content across the globe and stream unlimited inaccessible content on any of your devices with 256-bit military-grade encryption. It is compatible with Windows, Mac, Android, iPhone, iPad, Linux, Chrome, Firefox and works perfectly with Routers, Android TV, Amazon Firestick, Microsoft Surface, Kodi, Roku, Boxee Box, Now TV Box, Raspberry Pi, Chromecast, Play Station or Xbox.
PureVPN Features
Hotspot Shield VPN
Buy for: $11.99 a month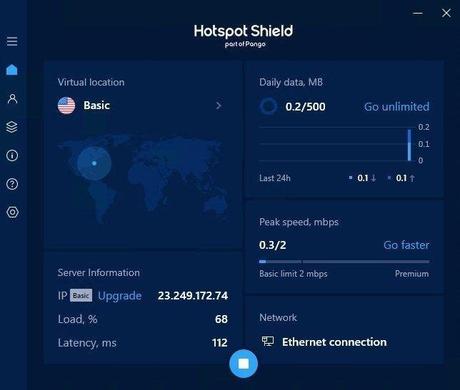 Hotspot Shield is a vintage, popular and one of the best VPN services available in 2020 to stream, download and play online games with the most robust VPN platform. It claims up to 2.2x faster streaming on Netflix, YouTube, Prime, Disney+ and other platforms at a blazing- fast speeds. Connect to unconditional internet service with 115+ locations in 80 countries and 35 cities. One account secures 5 devices with a robust 256-bit military-grade security.
Hotspot Shield VPN Features
Cyberghost VPN
Buy for: $12.99 a month / $47.88 a year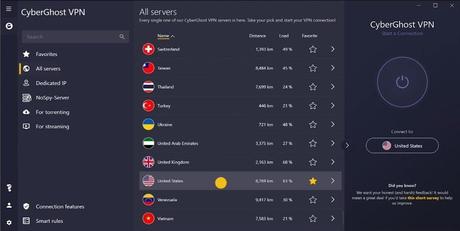 This is one of the most vintage and trusted VPN service providers that allow you to go anonymous across the world. Cyberghost can grant you access to unlimited streaming while bypassing geo-restrictions to your favourite web series. It allows you 100% anonymous access through 7190 VPN servers in 90 countries with AES 256-bit encryption for enhanced security and data privacy. Cyberghost uses OpenVPN, IKEv2, WireGuard protocols with secured firewalls to safeguard your information and keep your data private.
Cyberghost VPN Features
Buy for: $10.95 a month / $58.06 a year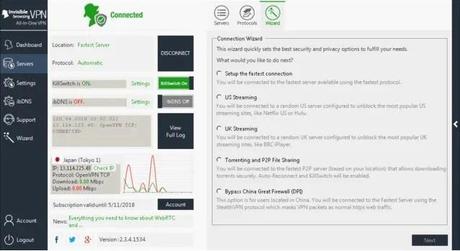 ibVPN was listed in top ten VPNs of 2019 due to its user-friendliness and invisible browsing functionality. ibVPN protects your identity and data with AES-256 encryption and keeps you anonymous while browsing the web, torrenting or online banking on a public or private Wi-Fi connection. It offers a wide range of connectivity through 180 servers in 57 countries. ibVPN follows a strict no-logging policy to keep your privacy intact. It uses OpenVPN protocol with firewall enabled security to safeguard your information.
ibVPN Features
Systweak VPN
Buy for: $9.95 a month / $71.40 a year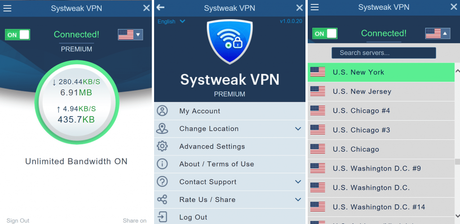 Whenever a new product is launched, it comes with newly added features and fixes learnt from other product's flaws. All the feedback, recommendations and advancement tips are taken into consideration while developing this advanced VPN service. The most intuitive feature of this VPN is bypassing ISP throttling, no-data policy, mask IP address, and giving uninterrupted connectivity from over 4500 servers across 200 locations in 53 countries. Connecting to a public Wi-Fi or a hotspot connection is now made secured with Systweak VPN.
Systweak VPN is the best VPN service that offers 100% data security, protection, privacy and while maintaining your anonymity. With AES-256-bit encryption, Systweak VPN hides your IP address and gives you access to your favourite websites across the globe. It is compatible with Windows 10, 8.1, 8 & 7 and soon going to be available for Android, Mac and iOS platforms.
Systweak VPN Features
TunnelBear VPN
Buy for: $9.99 a month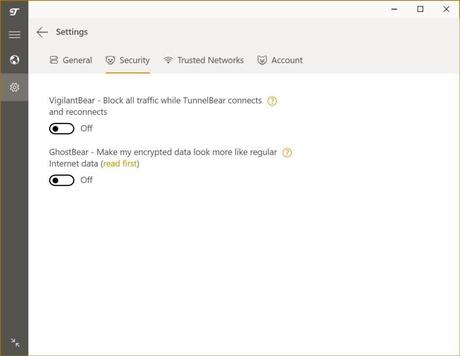 TunnelBear is a public virtual private network service based in Toronto, Canada offering the most user-friendly VPN service with award-winning protection. The company is acquired by McAfee, the world's leading security software provider. It is compatible with Mac, Windows, iOS, and Android and offers AES 256-bit encryption. Experience the lightening-fast streaming without throttling-free and buffer-free streaming.
TunnelBear VPN Features
What is a VPN?
A Virtual Private Network (VPN) is an intuitive software that creates a secured tunnel to connect to an encrypted connection between your devices and the web. A VPN service offers online privacy and anonymity by forming a private network from a public internet connection over the Wi-Fi or Hotspot.
How Do I Connect to A VPN?
Connecting to a VPN is as simple as launching a program. All you need to do is download and install a VPN software on your device and run the setup file. Log in to the program and enter your user name and password. Choose a country to connect to a server and you are all set. Your internet connection will establish a secured proxy server with the device you are connecting.
How Does A VPN Work?
When you connect through a VPN connection, it hides your IP address and assigns a new random IP that is reflected on your connection. Your identity over the net goes anonymous and your original connection details are replaced with a dummy identity. All your data goes through a secured and encrypted tunnel.
Why Do I Need a VPN?
The main purpose of using a VPN service is to protect your identity and secure your information that is on the internet. A VPN connection allows you to connect to unauthorized sites that are restricted in country-specific domains. Your private information such as your card details, banking information. User name, passwords, files or photos may be accessible by others. The best VPN service will encrypt your information and data over a public hotspot connection and will save you from being a victim of identity theft.
How We Rated These VPNs?
To test and identify which VPN is best for security, we have analyzed top VPN services on some parameters.
Security is the first thing to look for in a VPN service. A VPN should be able to offer 256-bit military-grade encryption on your connection. A VPN that offers OpenVPN, L2TP, IKEv2, DNS leak protection and a kill-switch is the best feature that a VPN service can offer. VPN listed in our roundup has the best in class connectivity with the maximum number of servers across the globe that gives the greatest speed with global server locations.
Best VPNs offer the greatest torrenting and streaming services without any interruption. VPN services ensure that your favourite streaming services like Netflix, Hulu, BBC iPlayer, YouTube or anything that you stream, works perfectly across the globe without any restriction.
VPN's user-friendliness and offered features are also compared along with their interface and console. Many VPNs are designed considering law factors and offer a no-log policy for enhanced privacy protection. If you get the right customer service from a VPN service provider, that's cherry on the cake.
Final Words
Selecting the Best VPN services for your device was difficult but not anymore. Out of hundreds of the VPN services, we have analysed, compared, tested and reviewed the top VPN services available in 2020. Selecting one out of this roundup is easy and effective. You should have a VPN on all the devices that allows you to connect to the internet and ensure the maximum level of security and privacy. Choosing the right VPN can offer the best in class service and value for money. You can share your choice in the comment section and let us know what you liked the most in your selected VPN.

I am Gajendra Singh and a professional writer who loves to write about the latest technology, machine learning, problems of Windows, Android, Mac and iPhone. Now I am working at Systweak Blogs.