Ooty is a hill station nested in the southern part of India. If you have only heard about the Nilgiri Mountains till now, then it is time that you see it. The beauty of this place will fill you up with a deluge of heaving emotions. Ooty is quiet, serene and poetic. It is as if God was in the mood to write lyrics one day. So, he picked up his pen and conjured this charming town.
The lyrical Ooty is ironically indescribable in mere words. It is the sheer natural joy which you experience while stepping foot on this place that you feel compelled to return again and again.
Some of the popular tourist places in Ooty are:
Ooty Lake: This lake is very famous, not just because it is a beautiful stretch of water body or not just because it offers paddle boating, but more so because it is quaint and reminds us of the simple little joys of life. You will find butterflies floating around the air and children running about on the shores as if they have nothing else to worry about. When you are at Ooty Lake, you seem to leave your mundane life behind.
Doddabetta Peak: Doddabetta Peak is the highest peak of southern India and serves as a brilliant viewpoint. So, if you are a camera or photography type of a person, then a visit to this place is thoroughly recommended. Even if you have no interest in photography, you must visit this spot just for the treat which your eyes deserve.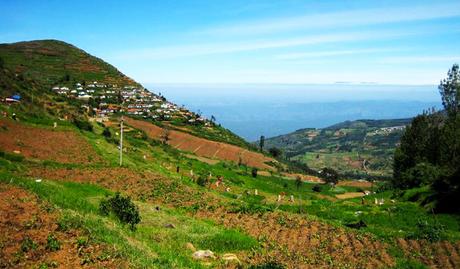 Botanical Gardens: Botanical Gardens is another of the most prominent tourist places in Ooty. It is a must-visit attraction and you simply cannot afford to miss out on this one. Most travel critics and experts have branded this garden as the best botanical park in the country. So, you clearly have a purpose behind visiting it. Also, do not forget the lure of the fossil tree trunk which is housed in this park.
Pykara Falls: Children love waterfalls as much as the adolescent lovers or the young honeymooners do! By nature, kids are very liberal and outgoing in nature! Hence, a free-falling waterfall is something with which they can easily relate. So, this famous waterfall known as the Pykara Falls must surely be included in your program.
Kalhatty Waterfalls: Kalhatty Falls is one of the most beautiful places to visit in Ooty. Apart from the charming sight of the waterfall, you shall also be greeted by some excellent stock of animals and birds. The forest-infested region is home to bison, buffaloes and even some cats. Kids would naturally be attracted.
Rose Park: Rose Park would be a good place to take your kid to, especially if you wish to give him/her a lesson in botany and the feel of nature's true magic. Since the 21st century kids are getting spoiled with artificial play stations and computers, such natural places would serve a perfect reminder of the life's real essence.