Get your tots ready for the beach or pool with absolutely chic swimsuits that speak of fun and easy, youthful energy. Swimsuits Direct will add an extra splash of lively vibe to 12-year-olds and pre-teens with these beautiful swimwear pieces from our collection. Choose from these ensembles now and let your cutie shine and have lots of fun at your sunny trip.
Funky and stylish, this Camo Cutie One Piece by Breaking Waves has the right amount of modern style combined with a pretty sash and a beautiful print design. Your tween is sure to look refreshingly vibrant in this one-piece suit, with its camouflage and peace signs print. It is also made of high quality material to guard against wear and tear, guaranteed to give you much value along with affordability.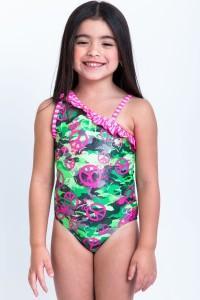 For a pretty and girly look, the Angel Beach Summer Fun 7-16 Bikini should be just perfect. Coming in a bright pink color with striped black and white edges and ties, plus cute print designs, this two-piece ensemble is sure to make your little teen beautifully feminine and classy. The bandeau top also comes with clasp enclosures for a secure fit. Playful and colorful, this swimwear set is made of top quality material for a high standard of fun at the beach or pool.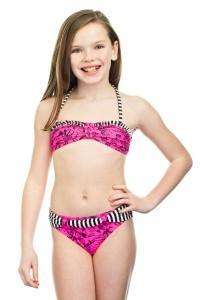 Featuring angular, colorful shapes and a fashionable flounce top style, the Breaking Waves Chevron Tie Dye Tankini 4-6x makes for a fun, absolutely carefree look. The bottom pant also features a tie sash for a girly touch and the flounce tankini has a cut design for a unique style. With this two-piece swimwear ensemble, your little fashionista is sure to stand out with a laid-back, cool style.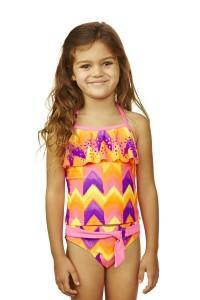 For a classically feminine look, this Raisins Girls Spin Into Sugar Summer Lovin' Set 4-6x should fit the bill perfectly. Its waist-long top is reminiscent of the styles of the pinup girls of the past and its ruffled bottom pant gives just the right amount of girly fun. This results in a delicately balanced appeal that is both modern and classical. Your stylish little girl will surely have fun in this swimwear set.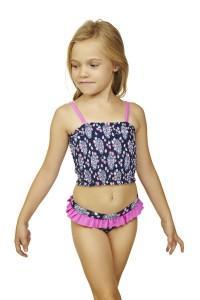 Simple and brilliantly cool, the Angel Beach Crochet Cool One Piece 7-16 gives off a surfer type of vibe that makes it striking and bold. It has softly undulating hues of cool blues and greens that make it pleasing to the eye. It also features waist side cut-outs for a modern style that offsets its overall simple look. It's also made of light but durable, high quality material for a great value.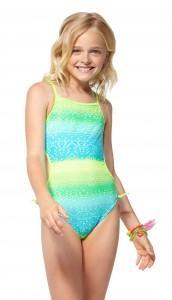 To make your beach or pool trip memorable and fun for your pre-teen, these swimwear options should come in handy. Perfect for showcasing style as well as balancing quality and freedom of movement, these pieces are among the best quality swimsuits you could have for your 12-year-old or pre-teen. Let your little one channel that budding style with Swimsuits Direct. Check us out for more chic swimwear options at swimsuitsdirect.com.